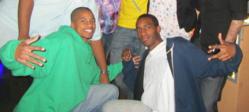 We started out by having meetings in Dunkin Donuts, and now we have a chance to have office space in Boston."
Stoughton, Massachusetts (PRWEB) May 02, 2013
Hoodiezz.com, an "Online Shopping Mall" that categorizes and sells different clothing from different online retailers, started as a hobby by two college students. Now in its 2nd year of business, Hoodiezz.com has experienced a 447% increase in sales over the first 4 months of this year. A good portion of the sales increase can be accredited to the site updates Head Web Developer, and Co-Owner Ty Holland has created throughout the year. His last site update completed and implemented in early April changed the visual aesthetics of the site, and helped with the sites ease of use for visitors. Since the site update, visitor time on site has increased 34% from an average 2 minutes per visit to now almost 3 minutes. Pages per visit have also increased by 25%, and bounce rate (number of visits consisting of only 1 page view) has dropped from 48% to 36%.
All of these numbers show a favorable future for Hoodiezz.com and the advertisers that display clothing on their site. To continually attract new customers; Head of Business Development and Co-Owner Chris Lamar not only seeks affiliations with small online retailers, but also with big named retailers such as Rockport, Bebe, Gap, and Banana Republic. All of these retailers have become affiliated with Hoodiezz.com earlier this year, the latest being Rockport who affiliated themselves with Hoodiezz.com on the 9th of April. Chris Lamar is also looking to create affiliations with retailers such as Victoria's Secret, Forever 21, and Perry Ellis. By growing their catalog of advertisers, Hoodiezz.com hopes to appeal to a wider consumer base.
All of this activity by Hoodiezz.com has not gone unnoticed. In late March Hoodiezz.com was asked to join "Mass Challenge," a community for entrepreneurs. Also, the business is in the running for the "Mass Challenge Accelerator" program. This program provides office space in Boston, mentorship, and 1 million dollars of funding opportunities. Co-Owner Chris Lamar said "Ty and I thank God for this opportunity. We started out by having meetings in Dunkin Donuts, and now we have a chance to have office space in Boston."
Hoodiezz.com has come a long way. From just a concept by two college friends, it has become a growing business. The future looks bright for this company, and for the two young Massachusetts entrepreneurs who created it.