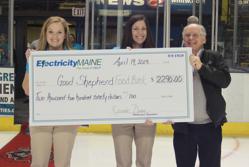 Portland, Maine (PRWEB) May 01, 2013
Electricity Maine recently presented checks to three of their Power to Help Partners. As part of Power to Help night with the Portland Pirates, Androscoggin Home Care and Hospice, Good Shepherd Food Bank and St. Mary's Regional Medical Center were presented with checks.
Electricity Maine also purchased tickets for the April 19 game for volunteers and staff of the organizations.
With the Power to Help Fund, Electricity Maine is able to support local non-profit organizations through direct donations as well as with technical expertise and volunteers that help them do their good work. Learn more at http://www.electricityme.com/power-to-help