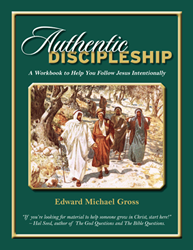 Walk day-by-day in authenticity as a follower of Christ.
Orlando, FL (PRWEB) May 01, 2013
As many churches and church leaders appear to be faltering in their spiritual leadership roles, respected missions leader Dr. Edward Michael Gross has written a new guide for church leaders and lay leaders alike that will begin to reverse that trend and turn the tide in spiritual development within the church. Authentic Discipleship ($12.99, paperback, 978-1-936989-92-8) is a discipleship manual specifically designed to help Christians and churches to "continue in the faith", says Dr. Gross (echoing Acts 14:22). The book helps provide believers with the ability to learn how to know and love Jesus, to live in His power, to keep His commands, to follow His ways, to share His message, and to worship His Father in spirit and in truth.
Drawing from decades of living out these principles in his own ministry both in America and to thousands of pastors on five continents, Dr. Gross compiled this in-depth study of how to truly walk day-by-day in authenticity as a follower of Christ. This workbook will ignite a new generation of church leaders who want to draw on Gross's experience planting churches and training pastors to make a difference in the lives of fellow believers – bringing practical discipleship into focus with sound Biblical teaching.
Working through the course outlined in this book will enable those who study its depth and breadth of information to, in turn, train others in the model of disciple-to-disciple training that grew the first century church. As they see their own numbers grow, this small task force will become a larger one trained in disciple-making. This helps ensure that the Christian knowledge, skills and habits of one person are passed along to another and another, so that, eventually, many will become active learners and followers of Jesus the Messiah.
To facilitate this leadership learning process, the workbook contains:

Topics for discussion
Elements of Biblical history
Relevant Bible quotes
Fill-in-the-blank questions
"Above the noise of our world's present perplexity and the questions of an unsure church cries a voice that is clear, strong, changeless and eternal. It is Jesus' voice," Dr. Gross says. "He calls you and me to that which is real, that which is lasting, that which is true. He calls us to Himself. He calls us to become His disciples now, just as clearly as He called His disciples in the first century. And He calls us to make disciples wherever we go, whether in the culture around us, or other cultures in 'all nations' in other lands. It is authentic discipleship which the church needs and the world wants to see among Christians."