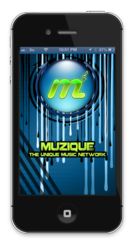 Ft. Myers, FL (PRWEB) May 01, 2013
For the artist, getting work heard around the world and projects completed just became a lot simpler. For the industry professional, finding the next big star promoting professional services is as easy as playing with the phone. For the fan, there's never been a more effortless way to stay connected with artists and bands. Whether an artist, an industry insider, or just a casual fan of music, the Muzique App is a must have application.
Muzique's unique music network helps artists and bands get the publicity needed with unique artist profiles that advertise a complete brand with full bios, photos, videos, music, contact info, events calendar and more, direct to a community of potential fans and industry professionals. Artists can connect with the right music professionals and businesses to ensure future projects are a logistical breeze. Search any industry profession from A to Z to get the job done. It's the one stop shop to connect with fans, as well promote talent direct to a network of loyal fans, artists, and industry professionals. Gain fans from around the world, collaborate with the industry, and even sell music with Muzique.
The Buzz feature is a tool for everyone who loves music. Artists can keep fans in the loop on new music and upcoming shows. Professionals and businesses can keep the network up to date on the latest releases, promotions, deals, and services. Receive real-time push notifications
Fans will never miss a concert again, with the events feature adding shows directly to the iPhone calendar! Discover new artists and bands geographically by using the location feature in the search tool. Find new music easy with genre and name searching. Enjoy the music scene, no matter the location, by searching local DJ's, clubs, and venues on the fly.
Whether a seasoned veteran, freelancer, or just starting a new record label, Muzique is the newest and best way to build clientele and expand business! Have a venue or a recording studio? Producer or DJ? A&R or Management? Build a music professional profile to promote a business or professional services to the right crowd. Get searched via name, profession, and location. Promoters can use the Unique Music Network to pack the club with people from within the area.
Artists, music professionals, and fans all agree, the Muzique App is not just a one hit wonder!
Visit http://www.muziqueapp.com to learn more about The Unique Music Network. Check out our blog for tutorials and more. Download here directly. https://itunes.apple.com/us/app/muzique/id637374177?ls=1&mt=8 Join the Unique Music Network today.