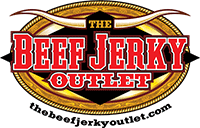 The first time I walked into a Beef Jerky Outlet store I felt like a kid in a candy store.
Seymour, TN (PRWEB) May 01, 2013
The Beef Jerky Outlet Franchise has announced a new retail store in Springfield, Missouri. The store will be located at 228 W. Sunshine Street in the Sunshine Corners Shopping Center. This is the second Beef Jerky Outlet for store owners Bob and Debbie Hathaway. Their first store is located just up the road in the heart of the Branson entertainment district at 2005 West Highway 76. Debbie is thrilled to be opening a new store. "We opened the Branson store May 2, 2012 and now number two is almost ready. Our goal is to be open by the middle of June."
Bob is very pleased with the new store location. "Beef Jerky Outlet stores thrive in busy tourist venues and shopping districts. The new Springfield outlet is right across the street from the 'Granddaddy of All Outdoor Stores,' the original Bass Pro Shop. Our next door neighbor is the Whole Hog Cafe, an award-winning BBQ restaurant. All the elements for success are here."
The Beef Jerky Outlet has the largest selection of beef, turkey and wild game jerky found anywhere. The store offers free samples for those who like to taste a wide variety of flavors before purchasing. Bob says, "The first time I walked into a Beef Jerky Outlet store I felt like a kid in a candy store. I knew this was the right business opportunity for Debbie and me."
Walking into a Beef Jerky Outlet store, customers will be surprised by the wide selection of flavors. The bulk jerky is set out in authentic covered barrels for sale by the pound. The flavors include everything from original to "blazing hot" to jalapeno and honey barbeque. Paul Lyons, a founding partner of The Beef Jerky Outlet puts it best,
"When folks see the store their eyes light up; they want to get in and see what it's all about. They come inside and there are 200 or more different kinds of jerky, including exotics like alligator and kangaroo. We have some other items, too--sausages, popcorns, peanut butters--but make no doubt about it: Beef jerky is the primary focus."
The Beef Jerky Outlet has opened franchise stores at locations around the country. Many of the stores are located near strong tourist areas. In that respect, Bob and Debbie Hathaway have selected a winning combination in Springfield, Missouri.
"Bob and Debbie did a great job in Branson," continues Paul Lyons. "All the ingredients were in place. Bob and his crew were successful in Branson and will soon be providing the unique, fun experience of the Beef Jerky Outlet to a second location in southeast Missouri."
About The Beef Jerky Outlet:
The Beef Jerky Outlet is a Tennessee-based company focusing on elevating jerky of all kinds to culinary status. It offers a large selection of jerky in various flavors made from beef, turkey and wild game. The Beef Jerky Outlet stores present excellent retail franchise opportunities for investors seeking a business with high margin returns on moderate start-up costs. To find out more, visit our website at thebeefjerkyoutlet.com
BEEF JERKY OUTLET FRANCHISE, INC.
P.O. BOX 575, Seymour, TN 37865
Phone: (586) 246-5405
Fax: (866) 876-3626
Franchise (at) thebeefjerkyoutlet (dot) com