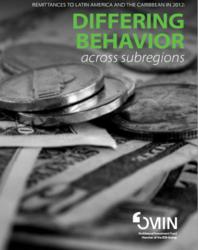 "The latest data show that migrants continue to provide critical financial support to millions of households across the region," said MIF General Manager Nancy Lee.
Washington, DC (PRWEB) May 01, 2013
• Download the report Remittances to Latin America and the Caribbean in 2012

Visit the interactive map
Remittances to Latin America and the Caribbean (LAC) showed a slight increase in 2012 with respect to the previous year, according to the latest report on remittances by the Multilateral Investment Fund (MIF), a member of the Inter-American Development Bank Group.
The report, "Remittances to Latin America and the Caribbean in 2012: Differing Behavior among Sub-regions," said that the region received a total of $61.3 billion in remittances last year. This amount represents a year-on-year increase of $300 million, a 0.6 percent increase from 2011. After a historic high of nearly $65 billion in 2008, and a 15 percent drop due to the financial crisis in 2009, money transfers to the region have stabilized.
Remittances inflow trends varied among countries in Latin America and the Caribbean. While remittances to South American countries and Mexico decreased by 1.1 percent and 1.6 percent, respectively, the countries in the Caribbean displayed modest growth and Central American nations experienced a significant increase of 6.5 percent in the total remittances received. This increase helped offset decreases in bigger countries, allowing for the region as a whole to end the year with slight growth.