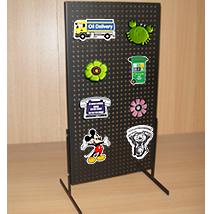 Des Plaines, IL (PRWEB) May 01, 2013
Specialty Store Services feels this is the time to give the retailers a break on everything for summer. Specialty Store Services has a wide selection of products to display summer items at dramatically reduced prices. Specialty Store Services has everything from magnet displays to T-shirt and hat displays.
Summer is quickly approaching with people traveling to beach towns to frolic in the sand and enjoy some much needed rest. So this is the time for retailers to get stores ready for customers to buy souvenir items. Specialty Store Services has a great product to display t-shirts on slatwall or grid wall at an even better price $9.99 a savings of $5.00. There has never been a better product to display the different styles of t-shirts in a small area. This will make shopping easy and convenient for both the retailer and the customer.
Specialty Store Services also has everything needed to display sunglasses and hats for those hot and steamy days. Revolving hat and sunglass displays that display lots of products in a small area of the store. These items are priced to sell and it couldn't have come at a better time of year. These items are so durable they can be brought outside to grab more attention to the store.
Specialty Store Services also has a product that is sure to make a profit- Ice. Can there be a better item to beat the heat than Ice? Specialty Store Services has everything needed to sell ice from Ice Bagging Machines to the drawstring ice bags to signage that will let grab customers attention that ice is sold here. Specialty Store Services also carries 6-pack rings to make purchasing and carrying beverages easier.
The Everything for Summer Sale will be in effect until May 31st so there is plenty of time to take advantage of products for summer. Specialty Store Services also has products for daily consumption from retail store supplies, baskets, gift certificates to cash handling supplies.
About Specialty Store Services
Specialty Store Services, a second-generation family owned business, offers everything necessary to operate a thriving retail store, from logistical solutions and retail supplies to custom and stock fixtures. Over the last 25 years this service-driven company has cultivated relationships with global partners while developing the expertise and knowledge required to provide competitive prices, outstanding customer service and quality products.