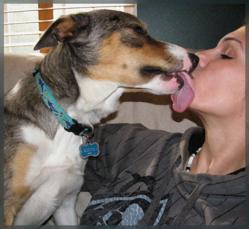 "The goals...are to find the owner or, if that proves impossible, to find a good home for the animal."
Reston, VA (PRWEB) May 02, 2013
When a lost dog or lost cat is seen, many thoughts may come to mind: "Is it lost? Is it hungry? Is it hurt? Should animal control be called? Does its family miss it?" It's important to help, so MissingCritters.com recommends the best ways to stay safe while coming to the aid of an animal in need.
1. Initial Approach – Above all, avoid personal harm and remove fear in the stray.
The initial approach must be perceived as non-threatening. EXERCISE CAUTION. If the critter is growling, has the hair that is standing up on its neck, or is bearing its teeth, then slowly turn around and WALK, DON'T RUN away from the animal. Animal Control is a phone call away.
To help remove fear and gain the trust of a found stray:

Approach the animal slowly, stay low, and make soft clicking noises.
Look side-to-side without prolonging eye contact.
Stop 10 or 15 feet away to avoid the stray from feeling cornered.
It's now up to the stray. If it's skittish, the chance it will run has been minimized . If it's friendly, it's been given an opportunity to trust. Remember: Look around! The owner may be close by!
2. Establish Rapport – Show love and food (if available) to entice.
Let the stray approach or move toward the animal slowly. Some strays will be friendly and the distance between you will vanish quickly. But for skittish dogs and kitties, establishing trust may take a little time, patience, and repeated attempts. Patience is critical.
Hold out your hand palm down while continuing soft clicking sounds or speaking softly. It is critical that the stray perceives no aggression.
Do not make any sudden movements. If a friend or child is sent to get food, have them walk slowly for a reasonable distance and return the same way. If food is obtained, set it down or toss it to the side of the stray.
If the cat or dog sniffs, nuzzles, or licks you, the next step is in sight. Do not touch its head, but scratch it behind the ears.
At his point, trust and rapport have been established, but sudden movements or actions that are perceived as aggressive could break that rapport.
3. Determine the Stray's Future – Find its owner or another home.
The goals at this point are to find the owner or, if that proves impossible, to find a good home for the animal. The primary reason for not taking a stray to a shelter immediately are because return-to-owner rates are very low at shelters, and a high percentage of stray dogs and cats will be euthanized at many shelters.
If there is a collar and ID tag, your job is easy. While gently petting or scratching the animal behind the ear, slowly read the tag. Secure the stray with a leash, rope, or ventilated box. Use gloves to hold a cat.
Search for the owner by (1) posting and searching for the critter for free in MissingCritters.com, craigslist, and Patch.com; (2) posting flyers and paying attention to flyers that others have posted; (3) reporting the stray by phone to the local shelter; and (4) having a veterinarian search for a microchip.
After two weeks, if the owner isn't found, decide to either adopt the stray, take it to a shelter, or act as a foster home and work with an adoption agency or local rescue group to find a permanent home.
When an animal that is lost, hungry, or abandoned is seen, have a heart and help out! Following the steps above, provides the best chance of successfully helping the pet find its owner or a new home.
About MissingCritters:
MissingCritters.com is a website founded in 2012 with this vision: What if all lost animals and all found animals could instantly be posted on a public bulletin board with almost no effort and was 100% Free? Our approach is simple, yet elegant: "Use your cell! Click a pic. Save a stray!" This free, easy-to-use website is designed so that the owner of a missing animal is immediately notified when the pet is found and, if taken to a shelter, returned home within the short window of time before the critter is adopted, transferred elsewhere, or put down. Companies interested in advertising to support the site can contact Stuart Harris at SHarris@MissingCritters.com.