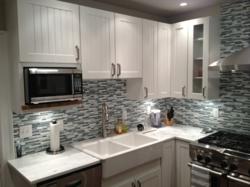 "A kitchen remodel can yield anywhere from a 80% to 90% ROI and a bath upgrade can yield 93% ROI or more."
Portland, Oregon (PRWEB) May 01, 2013
It's been a long time coming but homeowners are finally seeing the light at the end of a bleak real estate market. The key question this year, though, is whether prices will rise enough so that for-sale inventory -- which has fallen 43 percent nationally since the summer of 2010 -- will hit bottom and start expanding again. The sharp decline in inventory was a necessary correction to the oversupply of homes after the bubble, but now inventory is below normal levels and holding back sales, particularly in California and the rest of the West.
Rising prices should lead to more inventory for two reasons: 1) rising prices encourage new construction, and 2) rising prices encourage some homeowners to sell. The big question in 2013 is whether today's price gains will continue strongly enough to encourage builders to build and homeowners to remodel and sell their properties at a profit.
"Not all remodeling projects are created equal. When purchasing a home most people first view the suitability and style of kitchens and baths. That's exactly where a company like ours can help tremendously. We provide top-of-the-line products that allow sellers to get the biggest bang for their buck", states David Cohen from Rock Bottom Tile and Stone, LLC. So while kitchen and baths can be the most costly to redo, they're more likely to return the highest value for themselves according to proven statistical data. A kitchen remodel can yield anywhere from a 80% to 90% ROI and a bath upgrade can yield 93% ROI or more.
Just because a project is expensive doesn't mean the value is there. Often, small improvements can yield major dividends. In most cases a face-lift, paint, natural stone floors, stone accents such as backsplash, granite mini-slab counters along with upgrading appliances will yield a greater return than a full rehab. A $20,000 investment when spent prudently on a kitchen will strip away the age and out-dated look of your property while reflecting value immediately in the market price.
Let's face it, there comes a time when everyone wants to make a change. You've either outgrown a home or just want to move up. Whatever the reasons may be, making good, well-informed choices is what can make an owner money or cost them. Rock Bottom has a preponderance of clients as well as many years of home beautification experience to assist owners toward making the right decisions to add tangible value to their homes. We all possess a little of the weekend warrior capability in us and one can certainly save money if one does it themself. For example, installing granite counters can be expensive and quite intimidating for most folks. Fabrication and installation costs alone can make it seem like an insurmountable proposal, not to mention the raw costs associated with many full slab granites. However, wallets or style don't always have to be sacrificed . Granite mini-slabs provide the full slab aesthetic and are designed to work with any counter size or style, without any of the exorbitant fabrication or installation costs. With over 30 colors to choose from in an easy to work with ½" thickness, this product is a stellar avenue for cost-effective yet valuable return from your project. Rock Bottom Tile and Stone, LLC is a DIY choice for granite mini-slabs as well as all your natural stone needs.