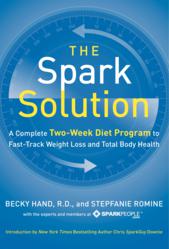 America's #1 weight-loss website, SparkPeople.com, combines the latest science on nutrition and their experts' experience working with millions of people to lose weight.
San Francisco, CA (PRWEB) May 07, 2013
"Everyone needs help beginning their healthy lifestyle journey. The Spark Solution gifts readers with the weight-loss wit and wisdom drawn from thousands who have benefited from SparkPeople.com's 15 million member community. Self-coaching tips along with a holistic balance of nutrition and exercise tools creates a powerful foundation for reaching your goals and sticking with them… for a lifetime."
-- Dr. Pam Peeke, MD, MPH, FACP, New York Times Bestselling Author
The Spark Solution
A Complete Two-Week Diet Program to Fast-Track Weight Loss and Total Body Health
By Becky Hand, R.D. and Stepfanie Romine
The first two weeks of a diet are the most critical indicator of long-term success. That's the conclusion following the successes of thousands of dieters among the 15 million registered members of SparkPeople.com, the largest online diet and healthy living community in the U.S. The experts at SparkPeople.com have now created a fail-proof diet that removes the bumps in the road, delivers immediate results, and lays the foundation for lasting success. The Spark Solution: A Complete Two-Week Diet Program to Fast-Track Weight Loss and Total Body Health (HarperOne; Hardcover; May 2013), is a 14-day comprehensive diet program that's proven, easy-to-follow and keeps readers motivated to reach healthy weight loss goals.
Whether the goal is to lose 10, 50, 100 pounds or more, The Spark Solution is the program that readers have been waiting for. Combining the latest nutritional science that reduces cravings, stabilizes blood sugar, and lowers cholesterol with effective and easy-to accomplish workouts and inspiring daily motivation, anyone can change their life for good in just two weeks. The three-part plan incorporates the three key components proven to work, a "metabolic makeover" a "mind-set makeover" and "motivation and momentum". The food plan is comprehensive and provides recipes for three delicious, non-restrictive meals a day, plus two snacks—examples include Spinach-Feta Breakfast Wrap; Lean Philly Cheesesteak sandwich; Panko-Breaded Fish with Tomato Salad; Chocolate Fondue with Strawberries; and Hot Apple Tart to name a few. In addition, this program offers an empowering fitness plan designed for busy lifestyles, incorporating cardio and strength training. Finally, real advice from SparkPeople dieters, along with the pounds each has lost, is included throughout the book.
The two-week Spark Solution plan includes:

A three-part plan that changes how one thinks about weight loss, ensures that the body is a calorie-burning machine, and provides the confidence dieters need to stick with it.
Dozens of delicious and satisfying chef-created recipes ready in 30 minutes or less.
Custom workouts that don't require hours in the gym.
Daily motivation to keep enthusiasm high, tips from people who've lost weight and kept it off, plus simple actions that will help readers reconsider how to think about healthy living.
Based on more than a decade of experience helping people successfully lose weight and the latest science and research on metabolism and motivation, The Spark Solution contains the best of what the #1 weight-loss website http://www.SparkPeople.com has discovered truly works for sustainable weight loss.
About the Authors: Becky Hand, R.D., L.D., M.Ed., is the head dietician for SparkPeople.com, the country's largest healthy-living website. She has more than 25 years of experience helping people get healthy while enjoying their lives. She lives in Indiana with her husband and two children. Stepfanie Romine is editorial director at SparkPeople.com, a certified yoga teacher, and former journalist. Until she joined SparkPeople.com, she disliked exercise; today she runs half marathons and enjoys hiking on a regular basis. She has maintained a nearly 50 pound weight loss for several years. She lives outside of Asheville, N.C.
The Spark Solution
A Complete Two-Week Diet Program to Fast-Track Weight Loss and Total Body Health
By Becky Hand, R.D. and Stepfanie Romine
HarperOne; Hardcover; May 2013
ISBN: 9780062228284; $26.99
Also Available As an eBook and Digital Audio