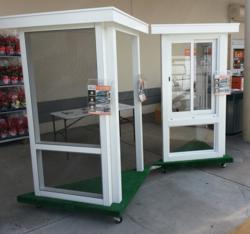 We custom-design each addition we build for each client, to fit the buyer's needs, budget, home and neighborhood.
MIAMI, FL (PRWEB) May 01, 2013
Venetian Builders, Inc., Miami, has continued its efforts to increase the sales of residential sunrooms, patio covers and screen pool enclosures in Broward County, Florida, in the first four months of 2013, Venetian President Christopher Noe said today.
"The year so far has only cemented Broward's position as Venetian's top generator of residential projects," Noe said. "In 2012, for the first time, Broward had become the prime sales territory for us."
Much of Venetian's 150 percent increase in 2013 residential sales over a similar period in 2012 is a result of leads generated by Venetian sales displays in Home Depot stores throughout South Florida. The displays open to showcase 8 running feet of materials and design choices.
"We custom-design each addition we build for each client, to fit the buyer's needs, budget, home and neighborhood," Noe said. "We don't believe in one size fits all. The best Broward County sunroom addition, patio cover or pool enclosure isn't necessarily the same in Fort Lauderdale, Hollywood, Coral Springs or Pompano Beach. The best solution is the one that is custom-designed for an individual home in a single neighborhood."
Noe explained: "It's about choice, and we train our people to help clients make the best choices."
When Venetian visits homeowners who contact them, either through Home Depot or directly, trained estimators show them even more detailed, life-size examples of working windows and doors, framing, screens, roof and wall panels, and pergolas, right at the curb.
"The right choice might be a 4 season room, a pergola or patio roof, or maybe a patio screen or pool enclosure," Noe said. "Our skilled estimators help homeowners focus on what will keep them and their families happy."
Venetian builds not just to meet the strict Florida Building Code, but also to surpass it, including in areas with the toughest standards, such as along coasts, lakes, ponds, canals, golf courses and parks. It prepares its projects for installation in its warehouse and fabrication center in Oakland Park, Broward County.
The company services all of Broward, including Fort Lauderdale, Coral Springs, Coconut Creek, Cooper City, Country Estates, Dania Beach, Davie, Deerfield Beach, Hallandale, Hollywood, Margate, Oakland Park, North Lauderdale, Pembroke Pines, Plantation, Pompano Beach, Sunrise, Tamarac and Weston.
In-home consultations are no-cost. Estimates are free, detailed and written.
For more information call 866-596-2427.