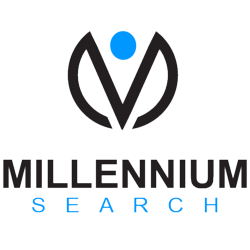 We work for startups, and bring that entrepreneurial attitude, passion and hard work to our own team.
Charlotte, NC (PRWEB) May 01, 2013
Millennium Search, the industry leading technology recruiting firm for software and technology companies, earned record revenues in its first quarter of 2013. The executive search firm saw its highest revenue quarter in its 10 year history, and is already poised to surpass that record in the second quarter of this year.
Founded in 2003, Millennium Search has grown into a recruiting team of 11 employees, with a strong presence in major startup hubs and larger metros across the United States, including the Bay Area, New York City, Boston, and Atlanta. The firm is highly focused on emerging and mid-stage startups in software, applications, mobile, gaming, data and analytics, and other technology focused sectors. The company's client list includes several notable startups with backing from prominent technology focused venture capital firms.
"The high tech sector saw a lot of growth in the first quarter of 2013, and will continue throughout the year. Hiring top talent is a key component to the success of our clients as they scale towards hitting their milestones," says Amish Shah, CEO and founder of Millennium Search. "2013 marks our 10th year in operation, and is poised to be our best year in revenue yet. We are excited about our position as we continue to grow into the premier executive search firm for the technology industry."
Some of Millennium Search's notable clients of 2013 include the following: Kony Solutions is a mobile application development platform. GCE Cloud is a financial and accounting software company. Serendipity is a Palo Alto based big data analytics startup. AppFirst is the creator of the DevOps Dashboard for systems monitoring and troubleshooting. SIOS Technologies provides high availability and data protection solutions. XOOM is an online money transfer company. Cryptography Research is a research and systems design company for content, network, and financial security. GridGain is a Java based in-memory big data platform. Takes is the breakaway photo app from this year's SXSW Conference. And Trendabl is an app for fashion discovery and community.
Shah attributes the growth of the organization to several factors. "We've worked hard to grow this company and be the best. We recruit for startups, and bring that entrepreneurial attitude, passion and hard work to our own team," says Shah. "We've assembled the right team, and continue to invest in the right resources and technologies. We try new things, and make every effort to stay ahead of the curve. Our track record reflects those efforts, which are paying off in such an explosive market."
About Millennium Search
Millennium Search is a boutique executive search firm dedicated to the ethical, rapid and successful placement of top-tier talent in early and mid-stage startups, and Fortune 500 technology companies worldwide. Its clients are backed by top venture capital firms like Greylock Partners, Index Ventures, Accel Partners, Sequoia and Union Square Ventures. For more information visit http://www.msearchllc.com.