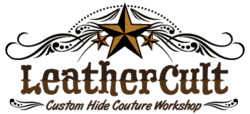 We believe in offering clothing that fits you, while using the highest quality leather available in the world.
New York (PRWEB) May 01, 2013
LeatherCult.com, a company that's revolutionizing the leather fashion world, has announced the addition of 16 spring colors to its line of custom leather jackets, jeans, vests and other high-end garments.
The company personalizes leather clothing with the help of its team of experienced artisans and craftsmen. Its newly released colors come just in time for spring, allowing customers to look ahead to the summer and fall fashion seasons.
"We are very pleased to release 16 new colors for spring, as it gives people even more options to make their leather fashion truly personal," said Harry Fashion, founder of LeatherCult.com. "We believe in offering clothing that fits you, while using the highest quality leather available in the world. This, combined with the handcrafted approach we take to each item, makes us the best choice for custom leather jackets, suits, jeans and more."
LeatherCult.com staffs many fine craftsmen who custom tailor all of its garments, using the precise measurements provided by customers. The company makes it easy to order custom leather items, allow users to simply enter their measurements and sizes, and then place an order within a few minutes. LeatherCult.com then gets to work creating the items, and it has the ability to ship items to almost anywhere in the world.
The line of products offered by LeatherCult.com varies widely in scope, including custom leather pants, vests, blazers, shorts, skirts, ties, suits, wrist bands and long coats. The company also offers swatches of its various types of leathers and colors, available at low prices to current and potential customers. This allows people to actually view and feel the particular leather before moving ahead with a purchase.
"Leather fashion only continues to grow in popularity around the world, and our company continues to stay on the cutting edge when it comes to offering absolute quality and a great selection," said Fashion. "As time goes on, we will keep expanding so that we can always serve the needs of our customers."
LeatherCult.com is part of a distinguished group of companies that have been profiled in a number of prominent publications for its innovations in the world of fashion, including Oprah magazine, the Tampa Tribune, Craft and InStyle, among many others.
For more information on the company and to view its wide selection of fine custom leather items, visit http://www.leathercult.com.