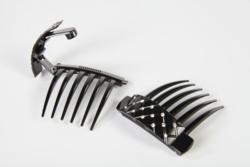 Dancing with the Stars performer, Malayna, says: "I love how easy it is to simply twist my hair up and go with PoniLOX
Hollywood, CA (PRWEB) May 01, 2013
From the runway to the red carpet, celebs are creating the messy bun and sexy updo in less than 3-minutes with a hot new hair-styling secret: the PoniLOX Styler. Entertainment Reporter, Valli Dawn Hart, says she's been seeing the new trend a lot lately. Celebs like Kim Kardashian, Heidi Klum and Kiera Knightley have been seen on the red carpet lately with this sexy new twist and it gives so much more variety to long hair. "While covering the recent Grammys, Emmys and Golden Globes, I noticed more celebs than ever were wearing the sexy, messy updo, or the half-up and half-down variation. And PoniLOX makes it so easy! I can style my hair for the red carpet in less than three-minutes with no heat tools using PoniLOX! And I get complements on my hair all night long--- even when I'm standing next to Nicole Kidman--- and she's stunning!"
Dancing with the Stars performer, Malayna, says: "I love how easy it is to simply twist my hair up and go with PoniLOX. It's taken me over an hour to style my hair into an updo for a dance competition before and now with PoniLOX I can create amazing styles in just a few minutes… and it stays put no matter how vigorously I dance! And I really put it to the test!" she says with a laugh.
That makes inventor, Connie Stewart, smile. Perfect for thin, thick, curly or straight hair, Stewart, says she created PoniLOX so any woman, with any hair type, could quickly twist her hair and insert the PoniLOX and her hair would look incredible in seconds. "The tricky part was inventing the special patented Gentle-Flex Grip clasp, so it could stretch and adapt to any thickness or style of hair, from full, curly African-American hair to thin, straight hair! I get letters from women every day saying they love how great their hair looks and how easy it is. Nothing could make me happier than to know I've done my part to help women avoid having a bad hair day and to look and feel their best, no matter how busy they are!"
Singer, Afro Diamond, says: "Thick, curly hair like mine can be a challenge but PoniLOX makes it easy to do a simple side-knot or an up-twist in seconds. And if it can hold my thick hair, it can hold anyones!" she says with a laugh. "PoniLOX is one of the hottest trends I've seen on the red carpet lately," says Valli Dawn Hart. "Well, that and the new gel sparkle polish or magnetic nail polish designs! But the PoniLOX is the real secret to looking put-together in minutes… and having so much more fun with your hair! And I love all the styles on the website!" To see the free celebrity style demonstration of some of the hottest new styles go to http://www.celebstyledemo.com or to order PoniLOX visit http://www.PoniLOX.com and get a free set when you buy your first set now.