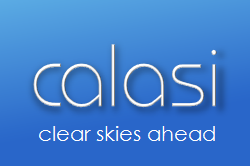 A 5.5-hour flight from Los Angeles to New York can produce the same CO2 emissions per passenger as 2 months worth of U.S. per capita electricity usage
San Francisco, CA (PRWEB) May 01, 2013
Calasi, a new startup company based in San Francisco, has set out to influence the airline industry with the launch of a software program that displays fuel economy ratings on travel websites like Expedia. Founded by former Google and Sun Microsystems employees respectively, Calasi hopes to make a bigger dent in climate change.
Rating fuel-efficiency in cars has been around for many years in the form of MPG or miles per gallon. Cars yes, but there has not been an MPG rating for flights.
Most air travelers generally understand that flying is very energy-intensive, but there is little information as to which factors contribute to that; the speed of travel, size of the aircraft, efficiency of the engine, flight path, weight, duration in the sky?
Airlines themselves have an economic interest in fuel-efficiency and even Richard Branson, founder of Virgin Airlines, is quoted as saying "two of the main ingredients of an airline's profitability are the number of passengers and the cost of aviation fuel", so it seems surprising that the public knows so little about it.
"If, with the Calasi app, people choose fuel-efficient flights and routes, over time they can influence the airline industry by filling more seats on those flights which, with Calasi, almost always carries the added bonus of shorter travel time and lower costs" says Margaret Lydecker, sustainability consultant.
In addition to building awareness, the company has invested in building a proprietary recommendation engine to shift demand towards more fuel-efficient routes.
Satish Viswanatham, Calasi CTO & Co-Founder, explains: "Fuel economy per passenger can easily vary threefold from one itinerary to another, so our app offers a wonderful opportunity to select an efficient flight and make a large positive impact. Many eco-conscious consumers already demonstrate pro-active, responsible choices by replacing light bulbs, biking to work, recycling household waste or purchasing a hybrid car. Applying this thought process to the way they fly is a natural and even more impactful extension of their values and lifestyle."
Calasi has calculated that a 5.5-hour flight from Los Angeles to New York in economy class can easily release the equivalent carbon-dioxide emissions per passenger as 2 months worth of per capita U.S. home electricity usage. 3.2 million passengers flew this itinerary between February 2012 and January 2013 according to the U.S. Bureau of Transportation Statistics.
Calasi's free downloadable app is available on the company website Calasi.com. It currently works on Expedia worldwide, with plans to announce additional travel websites in the coming weeks.
After a quick download, Calasi's software rates each flight option using a simple color code. It also points travelers, based on their criteria, to the best possible flight combination of price, duration and fuel-efficiency. This takes into account the number of stops, distance, type of plane, passenger load, seat configuration and freight share.
Rather than displaying a static MPG, Calasi updates the above variables regularly and so the MPG fluctuates by season. Calasi is designed to add another layer of transparency to the online booking experience making it an easy way to choose flights with less environmental impact.