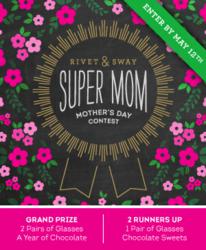 Seattle, WA and Chicago, IL (PRWEB) May 01, 2013
Rivet & Sway, a Seattle-based online retailer of stylish eyewear designed exclusively for women, and Vosges Haut-Chocolat®, a Chicago-based gourmet chocolatier that produces an exotic variety of chocolates from around the world, today announced that they have partnered to launch a Mother's Day contest to celebrate Super Moms.
The campaign looks to Rivet & Sway customers to nominate a Super Mom in their lives – a mom, sister, best friend, etc. – and share their story about why they are deserving of the Super Mom title.
The Super Mom contest will run from May 1-12, 2013 and nominations can be submitted through a form found on the Rivet & Sway website at http://www.rivetandsway.com/supermom. Each nomination should include the nominee's full name as well as an explanation of why they embody all that is "Super Mom." One Grand Prize Winner and two Second Prize Winners will be chosen based on the most inspiring story and the winner will be announced on May 15, 2013.
"Just as superheroes change their personas from mild-mannered folks to accomplish amazing feats big and small, so do our customers who accomplish heroics on a daily basis," says Britt Stromberg, Creative Director of Rivet & Sway. "This contest is a call to celebrate the Super Mom, a woman who gets pulled in a million directions, yet still handles each situation with poise and confidence. She deserves recognition, and a gift that leaves her feeling special."
One grand-prize winner will win two pairs of stylish eyewear from Rivet & Sway and a year's supply of artisanal chocolate from Vosges Haut-Chocolat's 13-Month Lunar Club Collection. Two lucky runners-up will each receive one pair of Rivet & Sway frames, and a special truffle treat package, also courtesy of Vosges Haut-Chocolat.
To submit a nomination for your Super Mom, and for more details on terms and conditions of the contest, please visit http://www.rivetandsway.com/supermom
About Rivet & Sway
Rivet & Sway is an eyewear brand and online shopping boutique focused exclusively on women's prescription glasses. With their curated line of high-end frames priced at $199 (including lenses) and an experience that mirrors a favorite boutique, Rivet & Sway makes buying specs online as easy and fun as buying shoes and handbags. Shoppers can expect useful advice to find the perfect pair (or two or three) alongside free FedEx 2-Day shipping, free lens and coating upgrades, all-inclusive pricing and a 60-day, no-questions asked return policy.
About Vosges Haut-Chocolat
Vosges Haut-Chocolat creations are made with the finest ingredients from around the world, sourced by Owner and Chocolatier Katrina Markoff. Three days following graduation from Vanderbilt University, Katrina headed to Paris to pursue her dream of studying the culinary arts at Le Cordon Bleu. Then, using her palate as her guide, she embarked on a world tour that commenced with an apprenticeship in Spain under the direction of Ferran Adria and continued eastbound through nine countries. The purple house of Vosges Haut-Chocolat and the concept of Travel the World through Chocolate™ were inspired by her travels, and seeks to create a sustainable luxury chocolate experience while bringing about awareness of the world's cultures by fusing a gamut of indigenous spices, flowers, roots, herbs and liqueurs with premium chocolate. Katrina is the recipient of numerous accolades, including the Bon Appetit Food Artisan of the Year Award and was selected as one of the top 35 Culinary Artists by Food & Wine Magazine. Katrina is constantly working to improve and expand her mission of bringing peace to the world through chocolate, and her latest undertaking— the building of a platinum LEED certified green manufacturing facility— is evidence of both her global awareness and dedication to her ever-evolving brand.