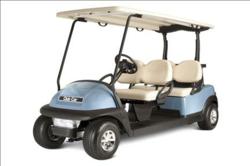 Forget candy, flowers and gift cards. Surprise your mom with something different this year, like a golf car accessory.
Augusta, GA (PRWEB) May 01, 2013
Why not surprise mom with something different for Mother's Day this year, such as a golf car accessory?
Mary A. Sicard, consumer marketing manager for Club Car, the world's largest manufacturer of small-wheel, zero-emissions electric vehicles, shares these suggestions.
Rockin' Rides!
Step inside an Authorized Club Car Dealership and see women shoppers commenting on the classic styling of a Precedent golf car or admiring its glossy paint color.
"We tend to emphasize the appearance of our golf cars, just as we do our homes," Sicard said. "We want them to reflect our personalities."
Nothing can do that like a custom paint job. Club Car offers a variety of optional paint colors and accent strips. "We can paint cars in just about any color you can imagine, from pearly white to black metallic to two-tone waves," Sicard said.
Then there's upholstery. "You can't go wrong with our optional seats covered in two-tone striped fabrics. The stripes accent the natural curve of the seat and reflect the easy elegance of the golf lifestyle," Sicard said. Available in eight striking color combinations, the seats can be customized with logos, initials and other artwork. The bottom cushions have an extra one-inch foam padding for comfort.
Optional dashes are another mark of distinction. Club Car makes them in aluminum, carbon fiber or gorgeous burlwood finishes, all with locking compartments and extra cup holders for lattes, sodas and water bottles.
To add flair on a budget, consider eight-spoke chrome wheel covers that bear the Club Car logo.
Creature Comforts
Protective equipment such as windshields, canopy kits, rain guards and three-sided enclosures are also popular with women. They keep the elements out and let her drive in wind, rain or heat.
"If you're buying a gift for someone in Colorado, you might consider a heating system. If your wife or mother lives in Florida, we offer a ventilation system that produces a quite breeze throughout the vehicle," Sicard says.
Whatever the weather, no ride is complete without tunes. Club Car's stereo with MP3 player features two full-range speakers, so mom can unlock her inner Madonna, Kelly Clarkson or Taylor Swift while cruising the neighborhood.
For a more practical, affordable gift, consider a golf car grocery bag or a storage cover to protect the car from rain, dust and snow.
Safety and Security
"Safety is another key issue with women, especially those whose state and local laws allow them to use their vehicles on public roads," says Sicard.
Optional golf car safety accessories include horns, turn signals, light kits for night driving, mirrors and more. For security, get her a cart key that prevents other owners from using their keys to start her car.
Stretch it Out
Women who drive the Precedent i-2 Excel golf car will enjoy one gift that combines style, comfort and safety. That's the Precedent Stretch Kit. This dealer-installed kit adds two forwarding-facing seats and 35 inches of floor space.
Special Interests. Special Options.
Club car also offers accessories for specific applications, from gardening to camping to beachfront living to hunting to the equestrian lifestyle. "Like all our accessories, they are well crafted and designed specifically for Club Car vehicles," Sicard says.
Club Car products are sold through Authorized Club Car Dealers. To find the closest dealer, visit http://www.clubcar.com and select "Dealer Locator.
About Club Car
Club Car, one of the most respected names in the golf industry, is the world's largest manufacturer of small-wheel, zero-emissions electric vehicles. The company's Precedent golf cars and Carryall Turf utility vehicles are integral to successful operations at thousands of courses around the world. The company also offers a complete line of new and used golf cars, XRT™ utility vehicles and street-legal, low-speed vehicles (LSVs) for personal use, all backed by Club Car's 50+ year legacy of superior design, manufacture and service. Club Car is part of the Industrial Technology Sector of Ingersoll Rand, and is based in Augusta, Ga. Visit http://www.clubcar.com.
About Ingersoll Rand
Ingersoll Rand (NYSE:IR) advances the quality of life by creating and sustaining safe, comfortable and efficient environments. Our people and our family of brands—including Club Car®, Ingersoll Rand®, Schlage®, Thermo King® and Trane® —work together to enhance the quality and comfort of air in homes and buildings; transport and protect food and perishables; secure homes and commercial properties; and increase industrial productivity and efficiency. Club Car has been one of the most respected names in the golf industry for more than half a century. The Club Car product portfolio has grown to include much more than golf cars, now encompassing golf and commercial utility vehicles, multi-passenger shuttle vehicles, rough-terrain and off-road utility vehicles and street legal low-speed vehicles for commercial and consumer markets. Ingersoll Rand is a $14 billion global business committed to a world of sustainable progress and enduring results. For more information, visit ingersollrand.com or clubcar.com.
###