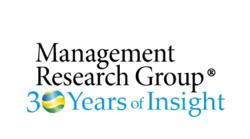 Portland, Maine USA (PRWEB) May 01, 2013
Ever since Jim Mahoney, Tom Rand and Jim Lomac started the company in the spring of 1983, we have believed that assessments should do more than give people information, they should:

Make people feel valued, respected and encouraged
Offer meaningful insight
Lead to thoughtful analysis
Inspire reflection
Steer toward worthwhile, clear options
Support purposeful action
Provide a catalyst for intentional, substantive, enlightened growth
MRG has grown and changed quite a bit since the early days, but even today remains fully committed to the original goals of what assessments should provide and how they should make people feel. Today, more than ever, we believe that there is no limit to where insight can take you.
"We have been on an amazing journey," said Jim Lomac, Founder and Vice President. "I am honored to be associated with MRG and all the great people I have has the privilege to work with throughout the years."
In celebration of 30 years in business, MRG is introducing an anniversary logo, along with a special webpage showcasing a fun look back at the history of the company and just a few of the people who have made this time so successful and enjoyable. Please visit the site throughout the year as we continue to include updates: http://bit.ly/16dPsSz
About Management Research Group, Inc.
Founded in 1983, Management Research Group is an international assessment firm specializing in Strategic Leadership Development, Personal Development and Motivation, and Sales Force Effectiveness. Our unique semi-ipsative questionnaire design significantly reduces rater biases, producing more accurate, valid and actionable feedback. We have one of the largest databases in the world developed from over 30 years of research, a network of more than 1500 consultants active in over 100 countries, and our assessments are available in 15 languages and normed in 15 countries and eight global regions. For more information, visit us at http://www.mrg.com