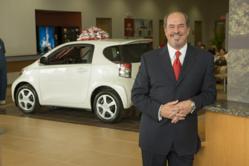 "I love the people of Clayton County because they are very real people," emphasizes Jerry. "It is a pleasure owning a business here, and Toyota South looks forward to becoming an integral part of the Clayton County landscape."
Jonesboro, Georgia (PRWEB) May 01, 2013
Jerry Gresham has spent most of his 37-year career in the auto industry selling Toyota's. By putting the emphasis on the customer's needs and wants instead of simply moving inventory, Gresham excels. And excel he has, winning the Consumers' Choice Award for two of his latest dealerships! "So we tell our customers that we're really not here to sell you a car, but we are here to help you buy a car", explains Gresham, the current owner of Toyota South.
An Atlanta native, Gresham retains the exact dates that marked the important milestones in his career. For example, he began work at Spreen Toyota on February 5, 1975, where he sold cars for about four to five years before being promoted to sales manager. After that dealership was sold, Gresham transferred to Sandy Springs Toyota, where he continued working his way up to general sales manager.
After working at Sandy Springs Toyota for ten years, Gresham received an offer that would forever change the trajectory of his career. The owner of Toyota of Roswell was so impressed with Gresham that he not only offered him a job at his dealership but was prepared to sell it to him, financing included! On November 3, 1996, Jerry took over Toyota of Roswell, and eventually repaid his benefactor.
At one point in his career, this opportunity eventually led to Jerry owning and operating Kia of North Atlanta and Roswell Motors. And although he also currently owns a Honda dealership in Texas, Gresham remains a self-described Toyota man.
Today, Gresham stands proudly at the helm of Toyota South, a dealership located in Clayton Couny just south of Atlanta. Originally known as Lou Evans Toyota when it was located near the Clayton County Farmer's Market, the company relocated to its current site on Jonesboro Road in the late 1990s. In 2005, Jerry purchased the dealership and renamed it Toyota South.
Since then, both the Jonesboro dealership and its associated Forest Park collision center have flourished."We have a huge following in our service department and it is probably our biggest asset," says Gresham. "Our collision center and our new and used car sales have doubled". Gresham sees a lot of promise in Clayton County and wants to be a part of its revitalization. After renovating the Forest Park collision center (which is the largest auto body shop in Georgia) three years ago, Jerry recently decided on a a two-million dollar facelift for the dealership. "I think business owners have a responsibility to give residents a nice, beautiful place to do business, and the residents also have a responsibility to try to support the business owners in Clayton County" says Gresham. It's a two-way street, Gresham explains, pointing out that about 95% of Toyota South's business comes from residents.
Gresham has returned the loyalty of the community by not only re-investing in his Jonesboro Toyota dealership but by supporting great local causes. The dealership recently partnered with its parent company to donate $5,000 to Rainbow House, an organization that supports children who have been victims of family violence or broken homes. Another of Toyota South's favorite charities is 'Lift' that helps people in need. Currently the dealership is involved with the 'Relay For Life Cancer Walk'. In addition to these important causes, Toyota South is a member of the Arts of Clayton County, an organization that supports local artists.
Jerry Gresham also attributes a substantial portion of his dealership's success to his very competent employees, veterans with 10-15 years of auto experience. "We're really very proud of the job we're doing", Gresham proudly exclaims. It appears the residents of Clayton county are in full agreement.
About The Consumers' Choice Award
Established in 1987, the Consumers' Choice Award® identifies and promotes businesses that deliver customer service excellence. The Consumers' Choice Award® has retained a leading independent research firm to conduct surveys in U.S. cities; Columbus, Atlanta, Dallas, and Houston. The winners are determined by consumers and not by a panel of judges. The survey covers a broad range of categories of interest to both the public and business communities. Its purpose is to publicly identify those establishments that have been voted by consumers as being their choice for excellence. The Consumers' Choice Award® is a most prestigious tribute to local businesses that serve their communities well. The program is encouraged by all levels of government and by business leaders. Find out more about The Consumers' Choice Award by visiting http://www.consumerschoiceaward.com/