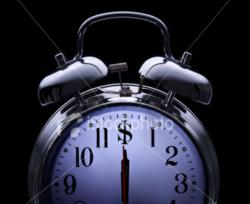 Rather than outperforming others, studies show that employees who are working overtime tend to make more errors.
Dallas, Texas (PRWEB) May 01, 2013
Employees who work too hard may be increasing their chances of trouble, instead of increasing their chances of getting a raise.
It is no secret that sports teams who play into overtime tend to make more mistakes due to fatigue. However, some employees continue to believe the myth that working overtime is a fast path to gaining their employer's favor, eventually leading to a raise.
Dr. Pam Garcy, author of How To Make Time When You Don't Have Any: A New Approach To Reclaiming Your Schedule, recently delivered the keynote speech at UT Arlington's 27th annual Psychiatric Nursing Symposium.
Said Dr. Garcy, "Rather than outperforming others, studies show that employees who are working overtime tend to make more errors. For example, nurses who work overtime have been found to have a higher rate of errors, compromising the welfare of patients, in addition to diminishing their own performance."
Dr. Garcy continued, "Ongoing overtime has also been correlated with a higher risk of burnout and compassion fatigue in those who work in health professions."
In addition, police and firefighter salary budgets are depleted by staff who continually work overtime hours, diminishing the chances of getting a raise based upon budgetary considerations.
If you want to impress your boss with great performance instead of costly errors, Dr. Garcy suggests trying these steps, instead of working too hard through overtime:
1. Pay attention to how much sleep you're getting each night. Getting sufficient and quality sleep are essential for great concentration the next day.
2. Set clear limits with your time. Discuss your schedule with your employer to ensure that you are not working beyond the expected hours. If your work demands are exceeding your capacity, experiment with ways to become more efficient, delegate, or diminish the work load. Tasks sometimes expand to fit the time, and there are often tasks that can be eliminated or reduced when quality time is spent to evaluate efficiency.
3. Evaluate your time wasters. Do you spend too much time on the phone? Checking e-mail? Looking for a file? As you increase your awareness, you can make better choices about how to use your time.
4. Analyze your priorities in relation to your schedule. Take care of your high priority items as early as possible and at your peak times of day. Save lower priority items for times when your energy is lower.
5. Schedule vacation time and personal time in advance. Often, if we don't force ourselves to take a day off, we don't take them. However, planning ahead and organizing a back-up plan for your absent days will allow you to come back to work refreshed.
6. Seek life balance. As you make time for exercise, nutrition, connection with others, time in nature, and self-care, you'll find that you are feeling more level at work, allowing you to focus and concentrate with greater ease.
7. Take your time. Often when we take our time, we focus and concentrate more. This allows us to bring more of ourselves to our work, leading to improved performance.
8. Ask for what you think you need. Although you might initially get a "no" from your employer, you might get a yes. Espeically when employees ask with a positive attitude that focuses upon helping your employer and others, your request will at least highlight the challenges that are inherent in whatever task is before you. Is there equipment that you need? Resources? Education? Assistance on a project? Asking for these will help your boss to consider you the next time that purchases are in order.
9. Share positive accomplishments with your employer. Rather than focusing on the extra time you spend at work, focus upon the quality of your product or service, sharing your successes with others.
10. Rather than working too hard, work smartly. Making decisions that will help you do a good job and be healthy will ultimately lead to you doing a better job and being more eligible for advancement. Ask yourself, "If I were to bring 10% more of my brain power to this job, what would I be doing differently," and see what answers emerge.
###
Pamela D. Garcy, Ph.D. is a clinical psychologist, lifecoach, and bestselling author residing in Dallas, Texas. She enjoys media interviews. Her primary focus is helping clients to gain greater well being through methods outlined in her books and workshops. Dr. Garcy also enjoys applying tenets of Rational Emotive Behavioral Therapy in novel ways to support her clients in their personal development and emotional healing. If you'd like more information about her Emotional Healing Workshops and books, or to schedule an interview with Dr. Pam Garcy, please call Dr. Garcy at 972-248-3861 or e-mail Dr. Garcy at drgarcy(at)aol(dot)com. A brief video explanation of her workshop for Depression and Anxiety can be found here: http://www.youtube.com/watch?v=ekHEpMQKCfQ&feature=youtube_gdata