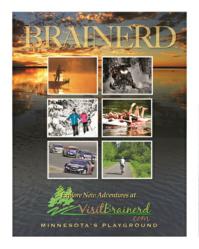 We just show what our actual people and businesses have to offer and the area just kind of sells itself. They don't call this place 'Minnesota's Playground' for nothing."
(PRWEB) May 01, 2013
The Brainerd/Baxter Minnesota Lodging Association, owners of the travel accommodations website 'visitbrainerd.com', are excited to announce that that they have been awarded the prestigious Minnesota Meetings & Events Best of 2012 Peoples Choice Award for best Convention and Visitor Bureau (Town/Area Less than 25,000 in Population).
The bureau was in heavy competition for the award with many other Visitor Bureaus; with runners-up being: Pequot Lakes/Breezy Point Office of the Brainerd Lakes Chamber, and Explore Alexandria.
The well-attended awards ceremony was held at the American Swedish Institute in Minneapolis. About 200 practitioners in the travel and tourism industry attended, along with executives from the area Chambers of Commerce, Visitor Bureaus, hotels, photography firms, catering services, and nearby resort facilities. The interest was keen for all the tourist and related companies in the area. Networking with other professionals was a favored part of the event.
The association received the award for, among other competitive reasons: a new mobile ready website design, a redesigned visitor guide (focusing on activities), the new area biking guide, and the constantly changing social media outreach all focused on the amenities and activities available to travelers to their beautiful area.
While Visit Brainerd may have received the actual award, they are quick to point out that it is the fine citizens of Brainerd that deserve the credit. "The people here are what make this job so satisfying. We just show what our actual people and businesses have to offer and the area just kind of sells itself. They don't call this place 'Minnesota's Playground' for nothing."
Interested parties in the ceremony, Brainerd MN, and the website are invited to visit these website addresses to review the ceremony, and see the site which helped the association win the award:
Award Weblink: http://mn.meetingsmags.com/bestof
Award Ceremony Video: https://www.youtube.com/watch?v=TGCAxF51hiA
Actual Website: http://www.VisitBrainerd.com
About Visit Brainerd
For over 14 years, Visit Brainerd, the Brainerd and Baxter Minnesota Lodging association, has worked diligently to promote the Brainerd Lakes Area as Minnesota's Playground. Media tools include their website, Visitor Guide, Brainerd Area Biking, local map, and various social media including Facebook.