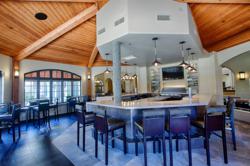 "The conceptual design was to keep in line with the integrity of the original layout, while adding a sense of luxury to the space," stated Lisa Asdikian, general manager, Embassy Suites Mandalay Beach Hotel & Resort.
Oxnard, CA (PRWEB) May 01, 2013
As part of the ongoing transformation of the picturesque Embassy Suites Mandalay Beach Hotel & Resort located along California's vibrant Central Coast, the seaside resort prepares to open a new Central Coast casual dining experience, Coastal Grill.
Coastal Grill will feature casual dining set against the dramatic beachfront setting offering scrumptious American fare and locally brewed craft beers. Patrons can also order select wines by the bottle or glass.
"The conceptual design was to keep in line with the integrity of the original layout, while adding a sense of luxury to the space," stated Lisa Asdikian, general manager, Embassy Suites Mandalay Beach Hotel & Resort. "We are so excited to offer this new experience to both residents and visitors alike", she added.
Designers used natural elements combined with modern styling to help give the iconic coastal hotel a renewed sense of rustic sophistication utilizing color tones found on the coastline and adding pops of contrasting colors for visual interest and significance.
Tim Hulbert will serve as executive chef. Hulbert brings 25 years of culinary experience to the position. He has served as chef at a variety of restaurants and resorts in Las Vegas including Planet Hollywood Resort & Casino, Hard Rock Café. "I'm thrilled to be back in Southern California and I am eager to open the brand new Coastal Grill," stated Chef Hulbert. "It is so exciting to be part of the great team at the Embassy Suites and I look forward to offering to both our guests and community a fresh new way to eat and drink while enjoying this beautiful seaside environment," he added.
With a strong focus on innovative, mouth-watering cuisine, Coastal Grill will offer a variety of 'comfort foods' and familiar favorites, all prepared with a clean & fresh presentation. Top quality meats & chicken, grilled to perfection, and fresh fish caught from the local waters promise to tantalize ones taste buds. Patrons might also want to bite into one of the classics, Coastal Grill's own Cheese Burger, consisting of a special blend of short rib, tri tip and New York steak with two cheeses served on a brioche bun. For those wanting something lighter, Coastal Grill also offers a variety of fresh entrée salads and appetizers such as Baja Spring Rolls and Fried Calamari. On tap are flavorful craft beers made with quality ingredients, each with their own distinct blend. Guests can also choose from a wide selection of fine wines, by the bottle or by the glass. Top it off with one of the Chef's signature, homemade desserts such as Cranberry Bread Pudding with vanilla anglaise & ice cream!
Besides enticing cuisine, Coastal Grill also provides an inviting atmosphere, big enough to handle larger crowds while still maintaining an intimate feel. The restaurant is equipped with a private dining area for groups and is surrounded with three windows providing spectacular views of the blue Pacific! Guests can also opt to dine by poolside or beachfront, to further add to the experience! The hours of operation will run from 11 a.m. to 10 p.m. daily.
About Embassy Suites Mandalay Beach Hotel & Resort
Embassy Suites Mandalay Beach Hotel & Resort creates an ambience of far away destinations set in a tranquil ocean-front location. The only all-suite hotel in Southern California to sit directly on the beach, the resort contains 250 two room suites and features the signature amenities standard at any Embassy Suites hotel including free cooked-to-order breakfast each morning, a complimentary two-hour Manager's Reception each evening. The guest suites are equipped with a separate living area with a sofa bed, armchair, well-lit dining/work table, private bedroom and bath, hair dryers, MP3 clock radio, two televisions, two dual-line phones, high-speed Internet access, a wet bar, mini-refrigerator, microwave oven, and an iron and ironing board. Onsite amenities also include a large freeform swimming pool, which is adjacent to a large whirlpool for additional fun. A second whirlpool, geared for adults, is also on property, allowing for more privacy and relaxation. In addition, the resort contains a workout room, lighted tennis courts and business center. For leisure time, guests can rent bicycles from Wheel Fun Rentals located conveniently on site. Or, guests can also opt to surf, kayak or simply soak up the golden rays! Special hotel packages are offered during the year.
About Embassy Suites Hotels
Embassy Suites Hotels, one of Hilton Worldwide's ten market-leading brands and one of Parents magazine's 10 Best Hotel Chains for Families of 2012, gives guests more during every stay. The full-service, upscale brand offers spacious two-room suites, free cooked-to-order breakfast and nightly Complimentary Evening Receptions with appetizers and beverages. Both leisure and business travelers looking for an approachable, upscale experience feel right at home in the brand's inviting atrium environment. Embassy Suites Hotels has 211 properties across the Americas and nearly 35 more in the pipeline. For more information, visit http://www.embassysuites.com, and connect with Embassy Suites at http://www.embassysuitesmediacenter.com, http://www.facebook.com/embassysuiteshotels
and http://www.twitter.com/EmbassySuites.
About FelCor
FelCor, a real estate investment trust, owns a diversified portfolio of primarily upper-upscale and luxury hotels that are located in major and resort markets. FelCor partners with leading hotel companies to operate its 66 hotels, which are flagged under globally recognized names and premier independent hotels. Additional information can be found on the Company's website at http://www.felcor.com.
For more information, call Embassy Suites at 805-984-2500 or visit the website at http://www.mandalaybeach.embassysuites.com.