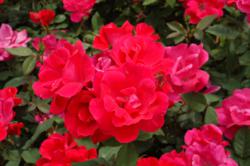 From fairest creatures we desire increase,
That thereby beauty's rose might never die.
- William Shakespeare
McKinney, TX (PRWEB) May 01, 2013
Introduced in 2000 by Conard-Pyle Nursery, Knockout Roses have quickly became the most planted landscape plant in Texas and perhaps the United States. It has all the attributes of a wonder plant: showy, continuous blooms, able to tolerate high and low temperatures and drought tolerant once established. Perhaps its best attribute is that it does not require continual spraying for black spot disease control - the bane of the rose industry. The Knockout Rose was once considered almost indestructible, hence the wide appeal of Knockout Roses in our challenging climate.
Now its very survival is in question.
Rose Rosette disease is becoming increasingly more common for reasons unknown. Death of an infected plant in two to five years is becoming all too common place. There is no cure for this disease. This viroid disease was discovered in 1940, but has not been routinely seen in our area until just recently. Initial discoveries of the problem were with R. multiflora. In more recent years it has begun to be problematic on other roses, especially those with Asian origins like the Knockout Rose. RRD is caused by a virus. Research has shown that the causal agent of infection can be transmitted partially by mechanical means: trimmers, pruners, etc. as well as a natural transmission by a certain species of rose mite.
How to spot the onset of the disease
A formally healthy plant starts producing "Medusa" like clusters of bright-red new shoots. Often this is mistaken for new spring growth which can have a reddish tinge, but not the explosion of multiple shoots. This is often referred to as "Witches' Broom" which is an indication of dire stress in a plant or tree. The affected shoots can bloom, but the flowers look distorted. As Rose Rosette spreads through the plant, the rose gradually dies and ultimately succumbs to the disease.
Prompt judicious pruning far below the point of infection may eliminate the problem, or at least delay death. Cutting well below the bright-red shoot clusters into the healthy green wood below may save a rose. But once a rose gets a full-blown case of Rose Rosette, no treatment is available. If a plant is severely infected, complete removal is recommended along with spraying the general area with Cygon, a systemic insecticide containing dimethoate to stop transportation of the accompanying mites. This particular eriophyid mite does not fly and can only move about by wind, traveling between branches or hitchhiking.
Conard-Pyle, the respected Pennsylvania nursery that introduced 'Knockout' roses, suggests pruning back the plants by 2/3 while they're dormant in late winter to remove any overwintering mites and eggs in the bud crevices. This is especially important for large landscape plantings of 'Knockouts,' because the more bushes you have, the more mites you have, and it's easier for the virus to spread.
Precautions and Recommendations
Disinfect your trimming tools with alcohol or a light bleach solution between cuts or you may transfer the disease from plant to plant. Remove the affected stems and treat the plant(s) with an effective rose miticid .
Cut back the roses in the winter by 2/3, dispose of the cuttings and apply a systemic drench to the roses.
If hiring a lawn care or fertilizing company, make sure to find one that will pay close attention to the developing roses and look for early signs of infection so that prompt action can be taken.