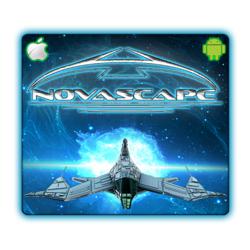 Do You Have What It Takes To NovaScape?
Rohnert Park, CA (PRWEB) May 01, 2013
http://www.kickstarter.com/projects/3brosstudios/novascape?ref=live
NovaScape needs help in moving from the current Design Phase and into Development. It is time to take NovaScape to the next level and in order to do so the Kickstarter fundraiser must succeed. Please take a moment to look over our Kickstarter fundraiser page and help take NovaScape to this next level. It will be pledges of all the NovaScape fans out there that will make this happen, so lets work together and make this vision a reality!
WHAT IS NOVASCAPE?
http://www.kickstarter.com/projects/3brosstudios/novascape?ref=live
NovaScape is a mobile phone based video game application, in which the player will control a spaceship using the gyroscope within their phone. The player will tilt their phone from left to right in order to control the side to side flying motion of their spaceship.
The purpose of the game is to achieve a high score by flying the greatest distance possible while avoiding incoming asteroids and meteors. The longer the player stays alive by avoiding these impacts the more their score will increase and the harder the game play will get.
As of right now NovaScape is in its early design phase with much more work on the horizon. It is time to move into the Development phase, the only issue is funding. NovaScape has been able to get this far with family investments along with multiple loans but funding has fallen short.
That is where Kickstarter comes in to play. With the help pledges, NovaScape will be completed and launched for everyone to enjoy. NovaScape needs help Kickstarter, lets kick this game into the final stage of development and finally finish and launch this game.
NovaScape will take the mobile market by storm. So join the Kickstarer Campaign and make this vision a reality.