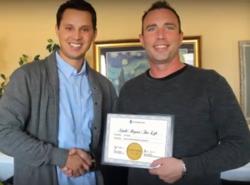 When we heard about Ben's story we knew exactly what we had to do.
San Francisco, CA (PRWEB) May 06, 2013
Ben Foster, father of one and Purple Heart veteran, recently returned home from military deployment to a less-than-stellar credit score. Unbeknown to him while deployed, credit cards and loans were being taken out in his name. "It's been this weight dragging me down, especially with the divorce. I mean it's just been really really rough," said Ben in an interview with Bryan Lovgren, agency coordinator at BestCreditRepairCompanys.com (BCRC).
Ben Foster currently lives in his brother-in-law's basement working full-time and is trying to provide a better life for his daughter. Although he is a Purple Heart veteran, his military accolades have not helped him secure mortgage loans or lower interest rates. Backed up against a wall and low on funds, Ben hasn't had anywhere to turn for help concerning his credit score.
BCRC discovered Ben's story and decided they had to do something to help.
BCRC teamed up with Lexington Law Firm to offer Ben something truly life changing. "Life changing events usually take place after split second decisions. When we heard about Ben's story we knew exactly what we had to do," said PR director Michael Bratton in a Monday morning meeting. The BCRC team contacted Ben and concluded to meet him at his residence.
BCRC spokesperson Bryan Lovgren and team met up with Ben Foster at his residence to offer him a fresh start. During the short interview on behalf of BCRC and Lexington Law Firm, Bryan Lovgren presented Ben Foster with complimentary credit repair for life. Upon receiving the reward Ben, almost in tears, managed to say, "I really really appreciate it."
Continuing in their efforts to help more people, BCRC is asking all people with low credit scores to send in their stories via video for a chance to be selected for free credit repair. Videos can be submitted on the BCRC Facebook page and will be reviewed by the BCRC team. Each month BCRC will select one person or family to receive complimentary credit repair for life.
"During these dark economic times, we've felt the need and privilege to become a beacon of light ", said Michael Bratton "and in order to become that light we've got to start with what we do best: helping people." BCRC has posted a YouTube Video containing this entire story and more.