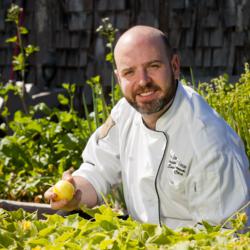 My family and I are passionate about the food we prepare and we don't want any of our guests to be limited in their enjoyment of our menu.
Dayton, OR (PRWEB) May 07, 2013
Besides featuring an intimate dining atmosphere in a historic home built in 1857, and a lush culinary garden where the Chef gathers ingredients daily, the Joel Palmer House distinguishes itself with its distinctive menu. The Joel Palmer House Restaurant, led by Chef/Owner Christopher Czarnecki, has been specializing in wild mushrooms since 1997. This family-run, fine-dining restaurant has over 100 years of experience hunting and cooking wild mushrooms and truffles. For those with special dietary needs, the Joel Palmer House now offers both vegetarian and gluten-free options.
Chef Christopher notes, "My family and I are passionate about the food we prepare and we don't want any of our guests to be limited in their enjoyment of our menu. We want to provide our guests with a unique menu made from fresh proteins and produce and featuring Oregon wines, spirits, and microbrews. Top quality ingredients have the added bonus of delivering the best possible taste no matter what your dietary restrictions!"
The Joel Palmer House's tasting menus include a selection of the best that the restaurant and Chef have to offer. The Vegetarian Tasting Menu takes guests on a culinary adventure through six courses, which may include Wild Mushroom Soup, Carrot Tartar, and Angel Hair Pasta with Lobster Mushrooms, depending on the season.
For guests looking for gluten-free options, Chef Christopher notes that several of their regular menu items are already gluten-free or can be modified to become gluten-free. Guests are invited to inform their server of the level of gluten intolerance and Chef Christopher will be sure to adjust the menu or make recommendations.
"All my guests, including those with celiac disease and gluten sensitivity, deserve to enjoy their dining experience. As a chef, I want to please every guest who visits the Joel Palmer House, no matter their food restrictions. With the right gluten-free alternatives and staff training, it's very possible to do that," says Chef Christopher.
About The Joel Palmer House Restaurant
The Joel Palmer House's innovative and exciting menu features choice local produce, wild mushrooms and Oregon truffles. Chef Christopher Czarnecki and family strive to incorporate seasonal ingredients and use many locally grown vegetables, including many from their own on-site garden. Chef Christopher Czarnecki has created a tantalizing, creative menu that marries perfectly with the world renowned Pinot Noir of Oregon's Willamette Valley. Of note, the Joel Palmer House ranks as one of Oregon's finest historic homes and is on the National Register of Historic Places and the Oregon Historic Register. Built in 1857, the house is Dayton's oldest standing structure. When weather permits, guests can enjoy their dinner on our outdoor patio, soaking in the last rays of sunshine in the heart of Oregon Wine Country.