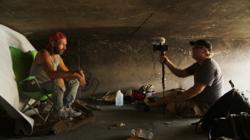 We met Mark Horvath in 2010, and immediately knew that his story, and the story of homelessness in America, needed to be told.
Chicago, Illinois (PRWEB) May 01, 2013
Kindling Group and See3 Communications have just launched a crowdfunding drive for @home, a transmedia campaign that explores homelessness through documentary film, social media, and a smartphone "game for change." It will roll out city by city, starting in Chicago in 2014 — saturating each community with screenings, events, and opportunities to tackle homelessness at the local level.
The @home campaign follows homeless activist Mark Horvath, the founder of Invisible People. Once homeless himself, Mark is now changing how the world views people experiencing homelessness using social media tools like YouTube, Twitter, and Facebook. Through Invisible People, Mark shares the stories of homeless people he meets on the streets, in tent cities, and under bridges. These interviews are raw, uncensored, and unedited — just like life on the streets. The Huffington Post named Mark one of 11 Twitter activists you should follow, and YouTube gave InvisiblePeople.tv unprecedented exposure by allowing Horvath to curate YouTube's homepage for a day.
"We met Mark Horvath in 2010, and immediately knew that his story, and the story of homelessness in America, needed to be told," says Danny Alpert, @home's executive producer. "But we also knew we wanted to do more than just art — we wanted to actually move the needle on homelessness. The @home campaign aims to amplify Mark's work, putting homelessness on the front burner."
The @home campaign began as a documentary following Mark as he road trips across the country recording the stories of the homeless people he meets along the way: a mother living out of a motel room with her five children, a young man suffering from depression who found community in a tent city, and the men living in the storm drains of Las Vegas. Mark and the strong, optimistic people we meet in this film challenge apathy, change our perceptions, and demand action. The film, to be completed in summer 2013, will air on PBS and will screen at educational, religious, community, and partner organizations in each campaign city.
The film will be supplemented by an interactive smartphone game, developed in partnership with PBS at the POV Hackathon 3 (http://to.pbs.org/ZuRTsv), that explores homelessness in a local context. Players will follow augmented-reality, location-based puzzles and activities on their iPhones around a neighborhood in their city to learn about homelessness. As they go, they'll interact with people face to face, and will watch videos from homeless individuals. The game will also have a measurable impact: As they go, players collect "points" toward items for real home move-in kits (like beds, pots and pans, or towels) to help someone move into a new home.
@home will launch community by community, shining a light on local issues and the national challenges that homelessness poses. In each location, the campaign will partner with major national service organizations to host volunteer events and fundraising drives to help people into housing.
For more:
Visit the @home crowdfunding page: http://igg.me/at/athome
Watch the @home trailer: http://invisiblepeople.tv/movie
ABOUT KINDLING GROUP:
Kindling Group produces and sponsors documentary films exploring critical social issues, channeling projects into powerful tools for community engagement and change. As a 501(c)3 nonprofit, they provide independent and emerging filmmakers with an environment that supports meaningful productions, maximizes their impact with strong outreach, and fosters connections between media makers and the broader community. Visit their website at http://www.kindlinggroup.org.
ABOUT SEE3 COMMUNICATIONS:
See3 Communications is an interactive communications agency that works exclusively for nonprofits and causes. As the leaders in online video for cause organizations, See3 helps cause advocates to tell their stories using sight, sound and motion and create impact for their causes. For more information, please visit http://www.see3.com.
ABOUT INVISIBLE PEOPLE:
Since its launch in November 2008, Invisible People has leveraged the power of video and the massive reach of social media to share the compelling, gritty, and unfiltered stories of homeless people from Los Angeles to Washington, D.C. The vlog (video blog) gets up close and personal with veterans, mothers, children, layoff victims and others who have been forced onto the streets by a variety of circumstances. Each week, they're on InvisiblePeople.tv, and high traffic sites such as YouTube, Twitter and Facebook, proving to a global audience that while they may often be ignored, they are far from invisible. Visit http://www.invisiblepeople.tv to learn more.