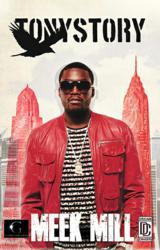 Philadelphia, PA (PRWEB) May 01, 2013
G Street Chronicles, one of the industry's hottest publishing companies, and Dream Chasers, Meek Mill's independent record label, have teamed up to bring you the novel, Tony Story by Rap Sensation Meek Mill. This highly anticipated novel will be available in paperback and ebook on Wednesday, May 1st.
Black and Nobel Bookstore on 1411 W. Erie Avenue in Philadelphia, PA is excited about the release of Tony Story and welcomes G Street Chronicles as they release Mill's debut novel in his hometown. The book will go on sale at 12:01 A.M. EST. They invite you to come out and celebrate the Tony Story release and take home a copy.
Meek Mill, known globally for his lyrical talent, has allowed his words to flow onto paper for the dynamic publishing duo behind the logo of G Street Chronicles. George Sherman Hudson, CEO and Shawna A., COO have fully embraced Mill's talents, his drive and this project and are excited to present it to his fans.
_______________________________
Check out the books description below:
Tony and Ty had big dreams of getting rich. Although they grew up like brothers, once money and envy entered the equation, greed took over and loyalty went out the door.
After a deadly shooting, the streets of Philly were in an uproar and the lives of many people revolved around revenge. Gold digger Kee capitalized on the built-up tension; but before she could really enjoy the fruits of her labor, she was thrust into the middle of a street war with the cost being her life.
Trust was not an option and revenge was the only thing anyone had in common. Paulie wanted revenge for his cousin; LB wanted revenge for his brother. They both had blood in their eyes and murder in mind; names were called while gunners lurked in the shadows. It became bigger than the almighty dollar and no one was safe.
Philly won't be the same after you're a witness to Tony Story.
_______________________________
G Street Chronicles and Black and Nobel look forward to seeing you on Wednesday, May 1st. If you are unable to attend, the book is available at gstreetchronicles.com, amazon.com, barnesandnoble.com.
Inquiries please contact publishers at books(at)gstreetchronicles(dot)com.