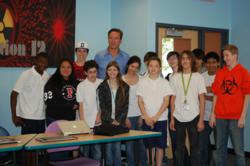 (PRWEB) May 01, 2013
The Clariden School of Southlake hosted Former New England Patriot's quarterback Drew Bledsoe Monday, April 29, 2013. Mr. Bledsoe, professional quarterback-turned-entrepreneur, took time out of his busy schedule to stop by The Clariden School and see firsthand the innovative program he'd been hearing of from Clariden student Nick Kuelbs. Mr. Bledsoe encouraged the students to stick to their dreams.
"If you could have seen me in seventh and eighth grade, I was not the guy you would have chosen for first draft pick in 1993," said Bledsoe, who went on to play for 14 years in the NFL and ended his football career in 2007 as a Dallas Cowboy.
"Don't be afraid to dream those really big dreams. I encourage you to grow up thinking about where you'd like to land," said Bledsoe. Bledsoe referenced The Clariden School's project-based learning as a model for planning for a future career. "In my life as a student, football player, father and businessman, I consistently use skills you're being taught at The Clariden School: planning, hard work in the right direction, not on negative yardage, and perseverance."
Drew Bledsoe has a vested interest in Bledsoe Capital Group and works with many philanthropic organizations. He hasn't stopped dreaming though, answering a question about his current dreams with, "I'd love to learn how to fly."