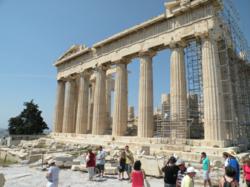 …I am become a name…
Far on the ringing plains of windy Troy,
I am a part of all that I have met…
--From "Ulysses" by Alfred Lord Tennyson
Oklahoma City, OK (PRWEB) May 01, 2013
Troy, the ancient city where the Greeks fought the Trojans over Helen ("The face that launched a thousand ships") was for centuries only a legend, like Atlantis, or the Throne of Zeus on Mount Olympus.
However, Troy is real. Visitors can walk the same paths and along the walls as did the heroes Ulysses, Achilles and the others heralded by the ancient blind poet, Homer.
One can also get college credit for such a visit, said Rose State College Humanities professor Theresa Walther, one of the organizers of the trip. Although, one does not have to take it as a class.
"We have a lot of people who travel with us who aren't students," Walther said. "They just want to travel and tour. But it's also a fun way to get college credit."
What about seeing the birthplace of Democracy? Climb to the top of the Acropolis—the hill above Athens, Greece—and view the ruins of the Parthenon and listen for the wind to whisper anciently of Socrates and Plato. Nearby, one can ascend the steps of Mount Parnassus and view Delphi where the Oracle gave forth prophesies to kings.
The trip has a cruise among the Greek isles — "beach times" are planned in the itinerary.
Then, there is the ancient, final bastion of the Roman Empire, what is now Istanbul, Turkey. While the city of Rome fell in AD 476, the Eastern Roman Empire and the city of Constantinople, also called Byzantium, stood for almost a thousand more years, collapsing only about 40 years before Columbus sailed for the New World.
In Istanbul stands what may be the world's oldest cathedral, the Hagia Sophia (meaning "Holy Wisdom" in Greek). Built by the Emperor Justinian in 532 AD, a grand, domed church, the Hagia (pronounced "Hi-yah") Sophia was for centuries the world's largest building, one of the holiest sites in all Christendom, until it fell to Sultan Mehmed the Conqueror, who took the city in 1453. While Mehmed turned it into a mosque, more than 500 years later it was converted to a museum, in 1935.
"We also plan to go shopping in the Grand Bazaar," Walther said. "It's probably largest and oldest bazaar in the world."
Rose State College is now accepting participants for the trip to Greece in May 2014. Currently, the tour fee is $3,585 for travelers under 23 or $3,870 for all other travelers. Tour price includes round-trip airfare, group transportation on scheduled tour, hotels with private bathrooms, breakfast daily, dinner daily, full-time tour director, guided sightseeing tours, city walks, entrance into scheduled attractions, and other amenities.
Walther said would-be participants need to enroll before June 21, 2013 to lock in these prices, because the trip fees increase thereafter. For more information, call Sherri Mussatto (405) 733-7503, email smussatto(at)rose(dot)edu , Lori Morrow (405) 733-7507 email lmorrow(at)rose(dot)edu or Trixie Walther email twalther(at)rose(dot)edu.