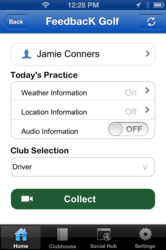 FeedbacK Golf is the most convenient and economical way to learn golf. - Jamie Conners, PGA Professional
Hampton, VA (PRWEB) May 01, 2013
FeedbacK™ Golf, a smartphone application, collects video of a golfer's swing at the driving range; analyzes the swing using the FeedbacK™ Intelligent Decision Inference System; and provides immediate audible coaching instruction to the golfer. FeedbacK™ provides a lifetime of instruction at a fraction of the cost.
FeedbacK™ Golf is designed for all golfers - from introductory level to tour professionals. The clean user interface quickly enables the golfer to set up a profile and begin a practice session. FeedbacK™ Golf: Collect is a hands-free, voice-activated application that does not require hardware to be placed on the club head, shaft, or on the golfer's hand. This is true video capture of the golfer's swing and not a digital reproduction. Using leading-edge technology, the FeedbacK™ Golf: Collect application:

Provides hassle-free, hands-free video recording of golf practice session
Captures each swing as a unique video
Tags golf practice (or a buddy's) with the location and weather data via GPS
Provides easy-to-use drawing tools to help analyze each swing video
Records voice notes about each swing
Compares two swings side-by-side
Allows golfer to post your favorite swing, with comments, to Facebook or twitter
Syncs video via Wi-Fi to The Clubhouse (Clubhouse.FeedbacK-Golf.com) which saves battery and data plan
Offers online review of Clubhouse swing videos by FeedbacK's PGA Profesional, Jamie Conners
FeedbacK™ Golf: Collect will be available in the iTunes App Store June 2013. The bundled FeedbacK™ Golf: Collect solution will be in retail stores August 2013 with everything a golfer needs to collect smartphone video at the driving range. The FeedbacK™ Golf: Analyze application will launch in Fall 2013 followed by FeedbacK™ Golf: Instruct in January 2014.
FeedbacK™ Golf: Collect will be showcased in a short walking tour on FeedbacK-Golf.com beginning May 10th.
FeedbacK™ Golf: Collect, our first product to launch, is in beta testing. Members of FeedbacK™ will be on-hand at the LPGA Kingsmill Championship in Williamsburg, VA, to provide interested tour or industry professionals with beta testing participant information.
Founded in 2012 by Shawn D. McDonald and headquartered in Hampton, VA, FeedbacK Enterprise, LLC. is a software development company that specializes in video analysis utilizing computer vision and intelligent learning system techniques.