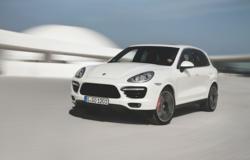 It used to be that each SUV would have one defining characteristic besides its size, but now, many of them are so well-rounded it can be difficult to choose which is best.
Torrance, CA (PRWEB) May 01, 2013
The Luxury SUV market has seen incredibly rapid growth in recent years, and autoMedia.com today presents an annual list with 14 recommendations to help interested buyers find the vehicles that best suits their style. Once sluggish and drab, the SUV class has evolved into a statement reflecting status and class. This new list showcases a host of new models from automakers around the globe, proving that the time has never been better to treat yourself with a luxury SUV.
After parsing through the wide array of Luxury SUVs available on the market today, experts emerged with their top picks in the class to create the list, Top 14 Luxury SUVs For 2013. The vehicles range from compact, to mid-sized, to three-row leviathans capable of seating eight. Some are sporty while others are safe; some are sharp and precise while others are cushy. Most of them are gorgeous. What they all have in common is a new trend of pushing the envelope and moving the SUV segment into a new era of design and capability.
"It used to be that each SUV would have one defining characteristic besides its size, but now, many of them are so well-rounded it can be difficult to choose which is best," said Doug Hamlin, Founder and CEO of autoMedia Solutions. "Not to mention, the bar has been raised when it comes to luxury. The vehicles on this list truly earn that designation, with top-of-the-line quality and simply beautiful interiors. The new autoMedia.com list highlights the particular strengths of each vehicle, adds their performance and fuel efficiency figures, factors in the price and really gives the reader a chance to find the car that fits their needs. Then, the helpful New Car Buyer's Guide is available for further research, and quotes can be requested right on the spot."
Vehicles in the Luxury SUV market make no apologies for themselves. They are large, flashy and expensive. They also sell like gangbusters. More and more buyers have flocked to the Luxury SUV class as the cars have become more refined, more efficient and more beautiful in recent years. Vehicles like the Acura MDX and Audi Q5 have been huge successes for their brand thanks to their all-around excellence at an attractive price. Others, like the Cadillac Escalade and Land Rover Range Rover, command huge sticker prices but deliver decadent styling and interior comfort. New to this class is the idea that a Luxury SUV can be a blast to drive, but the Nissan EX and Porsche Cayenne prove that driving dynamics need not be thrown out the window. The class is expanding, and fast, and buyers can keep up with the trends thanks to the Top 14 Luxury SUVs For 2013 list.
Editors decided to open the list to Luxury SUVs all of sizes, for a comprehensive mix of the class as a whole. That's why models like the compact Range Rover Evoque (which even offers a coupe!) is alongside the mid-sized Volvo XC60 and the enormous Toyota Land Cruiser. Whether carting around a few grocery bags or an entire volleyball team, the cars on this list have what it takes to get the job done.
Buying a car is a massive investment, and buying a Luxury SUV is truly an exercise in treating oneself. The new Top 14 Luxury SUVs For 2013 list treats this decision very seriously and can help interested buyers make a correct and confident decision. Few automotive segments are as diverse as the Luxury SUV class, and autoMedia.com is the perfect place to learn about it.
About autoMedia.com: The auto website was launched in September 2000 by a team of automotive editorial, design, and publishing professionals, with the goal to be the premier provider of quality automotive content on and for the Web. Today it features over 92,500 pages of original articles, including over 2,500 features researched and written by leading automotive experts, covering new and used car buying, new vehicle previews, road test reviews, car care maintenance, professional driving advice, and technology. Automotive enthusiasts and new car shoppers can read about the latest industry news, pricing, rebates and incentives, view photo galleries and research details on all makes and models. For more information, visit autoMedia.com.