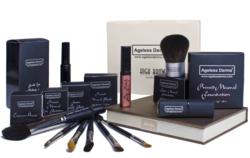 According to Rachel Goodyear, the Esthetician at Ageless Derma, "Our mineral makeup products feel very light on the skin, unlike most other foundation makeups.
Anaheim, California (PRWEB) May 07, 2013
Ageless Derma has just added to their natural anti-aging bevy of products with a mineral makeup line. The makeup contains anti-aging ingredients in addition to providing protection against the ravages of the sun with 100% pure minerals.
In keeping with Ageless Derma's dedication to using natural ingredients in the anti-aging skin care trend, their latest introduction of mineral makeup more than lives up to their high standards. The makeup is manufactured using completely pure minerals of the earth in addition to other clinically proven ingredients that enhance the skin instead of camouflaging it.
The minerals used in Ageless Derma makeup are finely crushed minerals that work to provide the skin with comprehensive, all-over coverage. Some of the natural minerals of the earth used in this product line include boron nitride, mica, iron oxide, titanium oxide, and zinc oxide. These minerals allow the makeup to feel light and airy on the skin, yet the colors are intense. The pure minerals in Ageless Derma's makeup reflect light, contain rich pigments, and allow the face to glow with a renewed, more youthful radiance.
The sunscreen protective effects of mineral makeup are what actively help keep aging wrinkles in check. The sun is an enemy of the skin, its UVA and UVB rays attacking collagen, elastin fibers and causing free radical damage. The zinc oxide and titanium oxide in Ageless Derma's mineral makeup products will provide natural protection from the sun with an SPF factor of up to 20. Skin damage that is evidenced by fine lines, wrinkles, dark spots, and uneven skin tone can be warded off with the application of mineral makeup. The pure minerals reflect light instead of absorbing it. They are also anti-inflammatory agents, helpful for those with rosacea or acne conditions. When applied evenly over the skin, Ageless Derma's mineral makeup will give the user sun protection in addition to the beautifying qualities of the various cosmetics used.
The mineral boron nitride gives Ageless Derma's mineral makeup its light velvety texture with a matte finish, and it will fill in fine lines as it also moisturizes the skin. Mica will reflect light, making the skin appear to glow with youth. The various iron oxides provide the deep, desirable colors of the makeup. Other minerals allow the makeup to stay put for a lasting effect, add moisture, and soften the skin.
In order to approach and correct the deeper causes of skin aging, Ageless Derma places powerfully effective, yet all natural, ingredients into their mineral makeup. Natural anti-oxidants, anti-inflammatories, wrinkle-reducing agents, moisturizers, vitamins and botanicals are placed within each of their mineral makeup products. Essential anti-aging ingredients such as green tea extracts and Vitamins A and E are found in most of these makeup products.
According to Rachel Goodyear, the Esthetician at Ageless Derma, "Our mineral makeup products feel very light on the skin, unlike most other foundation makeups. Your skin is allowed to breathe while it is also protected against the sun's aging rays with minerals that are incorporated right into your makeup."
The Ageless Derma mineral makeup items include a wide range of shades of lipsticks and lip glosses. The company also offers mineral blushes, pressed mineral foundations, pressed mineral eye shadows, mascaras, loose mineral foundations, and eyebrow kits, all available in a variety of shades to suit every individual need. Some of the mineral makeup items include complimentary products, such as brushes or sponges, with specific purchases.
The Ageless Derma company is at the forefront of anti-aging innovations. They are dedicated to researching and providing the most cutting edge skin care products in current development. The ingredients used in their products have been developed, tested, and approved by dermatologists and scientists for their efficacy and safety of use. Ageless Derma uses a variety of naturally derived ingredients in their skin care products, ranging from stem cells to botanicals, and from vitamins and minerals to peptides and antioxidants. The products are free of parabens and non-toxic.