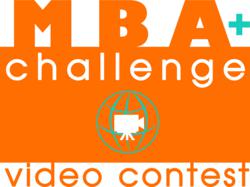 We were thrilled with this year's MBA+ Challenge entries, it is so exciting to watch the meaningful work business students are engaged in throughout the developing world.

-Nora Brown, COO, GBSN
Washington, DC (PRWEB) May 09, 2013
A team from Colorado State University College of Business won the Global Business School Network's 3rd annual MBA+ Challenge Video Contest, which invited business students from around the globe to submit videos showing how they are making a difference in the developing world through volunteer work, school projects, new enterprises or blossoming careers.
The winning video, MamaCarts – Increasing Food Security, is about empowering local communities to increase food security in urban slums. MamaCarts is a for-profit, food cart micro franchise that powers present supply chains to distribute complete, clean and delicious meals to lower income, urban markets. By purchasing nutritional foods in bulk from local suppliers, the price per meal is reduced. MamaCarts vendors complete the link between local suppliers and food insecure communities. By 2018, MamaCarts will tackle the core causes of malnutrition by annually delivering 1 billion affordable meals.
In second place is a team from IMD with their video, GIVEWATTS, about installing renewable energy in marginalized schools and clinics in Kenya. In order for children to study at nighttime, families are forced to buy kerosene. For families who cannot afford kerosene, the children are forced to use open fire to study. GIVEWATTS uses a commercial model to increase the number of lamps placed, as well as to avoid dependency and create sustainability.
Third place went to a team from UNC Kenan-Flagler Business School whose video, Seeking Change – UNC Kenan-Flagler and the World Around Them, is about 12 MBA students who embarked on an 8-week journey to make an impact in three countries. In Rocky Mountain, NC, the students delivered a business plan to provide dental services to residents who fall below the poverty line. In Addis Ababa, Ethiopia, the students partnered with a non-profit, Youth Impact, where they provided the organization with a market analysis on opening a training restaurant, which would not only generate income for the organization but also provide career training. In Mombasa, Kenya the students partnered with Yehu Microfinance Trust where they helped identify opportunities for Yehu female entrepreneurs to expand their local businesses.
The two other finalists were from Thunderbird School of Global Management with a video, Momtaz Host, about providing online radio streaming, online marketing and an E-shop marketplace in Afghanistan, and from Northeastern University D'Amore-McKim School of Business with a video, Investing in Impact – SEI in Nicaragua, on a program set to empower the poor communities in Nicaragua to lift themselves to prosperity.
The MBA+ Challenge Video Contest captures and celebrates business students' contributions to economic and social development around the globe. The winner will receive an all-expenses paid trip to present at the GBSN Annual Conference and 10th Anniversary Celebration in Tunis, Tunisia June 10 - 12.
The winners were selected from a group of five finalists, who were determined by public online voting. The selection panel included:

David Wilson, President and CEO, GMAC
David De Feranti, President, Results for Development
Gina Tesla, Director, Corporate Citizenship Initiatives, IBM
Della Bradshaw, Business Education Editor, Financial Times
Mahmoud Triki, Dean, Mediterranean School of Business
Jacqueline Stein, Tuck MBA and 2012 MBA Challenge Winning Team Member
Over the next month, the five finalists will be participating in a one-hour mentoring session with a prestigious business leader from around the globe. The student-mentor match ups are below:
UNC Kenan-Flagler team with Bruce McNamer, President and CEO of TechnoServe
Thunderbird School of Global Management team with Mari Kuraishi, CEO of Global Giving
IMD team with Manu Chandaria, Chair of the Comcraft Group
Colorado State University College of Business team with Benedict Odukwe, Head of Human Resources of the United Bank for Africa Group
Northeastern University D-Amore-McKim College of Business team with Randall Kempner, Executive Director of the Aspen Network of Development Entrepreneurs
"The real tragedy is that not all will be recognized as the winners," said David Wilson, CEO and President of the Graduate Management Admission Council. "They have certainly all contributed to making this world a better place. And, in my mind, that accords them the highest accolade of all."
To watch all of the 2013 MBA+ Challenge Videos, visit http://www.gbsnonline.org/mbachallenge.
About the Global Business School Network:
The Global Business School Network was established in 2003 on the principle that skilled management is critical to effective international development. GBSN is a nonprofit organization with a mission to build management education capacity for the developing world. Harnessing the power of an active network of leading international business schools, GBSN fosters partnerships and knowledge sharing across borders, advancing management education that delivers international best practice with local relevance.