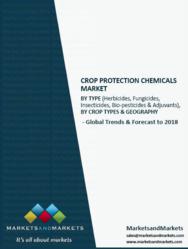 Rockville, MD (PRWEB) May 01, 2013
The global crop protection market consists of crop protection chemicals or agrochemicals, seeds, and genetically modified (GM) crops. Crop protection chemicals are the most dominating segment of this market in terms of market share as well as product innovations. Crop protection chemicals are further classified as herbicides, insecticides, fungicides, bio-pesticides, and adjuvants. As the latter two segments hold a minor market share, in general practice, pesticides are referred to as crop protection chemicals.
Bio-based pesticides, as the name suggests are made up of renewable resources and contain no synthetic active ingredients. These pesticides have a much more positive impact on the environment than their synthetic counterparts and are expected to be one of the fastest growing pesticide segments in the near future. Synthetic pesticides, which are typically manufactured from petrochemical or inorganic raw materials, are further segmented as insecticides, herbicides and fungicides. Globally, the market is dominated by herbicides, accounting for over 40% of the total pesticide demand in 2011.
Shrinking of arable land in recent years, growing population and an increasing need to improve crop yields are expected to drive the demand for crop protection chemicals in the near future. However, the constant push from regulatory authorities such as EPA (Environment Protection Agency) to restrict the use of pesticides in order to reduce the impact on the environment and growing consumer awareness regarding pesticide consumption, due to residues is expected to hamper the demand for the Market in the next five years.
One of the critical success factors (CSFs) in the market is the ability of a market participant to preserve the intellectual property through patents of its active ingredients and the ability to develop, register and commercialize active ingredients coming off patents. This battle of generic against patented products is expected to be a key issue in the crop protection industry in the next five years.
The global market, in terms of active ingredient volume was estimated at 2,075.5 metric tons in 2011 and is expected to reach 3,136.1 metric tons by 2018, growing at a CAGR of 3.2% from 2013 to 2018.
To view the report, visit
http://www.marketresearch.com/land/product.asp?productid=7525235&progid=85406
Follow us on Facebook http://www.facebook.com/marketresearchdotcom
Follow us on Twitter http://www.twitter.com/marketresearch_
About MarketsandMarkets
The MarketsandMarkets edge: Worldwide, market research reports are primarily sold for numbers, market segmentation and competitive landscape, within the business leaders.
The analyst working with MarketsandMarkets come from the renowned publishing houses and market research firms globally adding their expertise and domain understanding. We get the facts from over 22,000 news and information sources, a database of hundred thousands of key industry participants and draw on our relationship with more than 900 market research companies globally.
The success of our clients speaks for our success. In course of our ongoing relationship with research partners for over a period of three years, our clients have discovered that we can not only head-start any given research project immediately but also execute it in a stipulated time frame. We always prioritize our commitments of confidentiality. The fact that a high percentage of our business comes from client referrals bears ample testimony to the quality of our market research reports.
About MarketResearch.com
MarketResearch.com is the leading provider of global market intelligence products and services. With research reports from more than 720 top consulting and advisory firms, MarketResearch.com offers instant online access to the world's most extensive database of expert insights on global industries, companies, products, and trends. Moreover, MarketResearch.com's Research Specialists have in-depth knowledge of the publishers and the various types of reports in their respective industries and are ready to provide research assistance. For more information, call Cindy Frei at 240.747.3014 or visit http://www.marketresearch.com