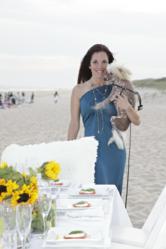 "One of the dogs was found as a young puppy frozen to the cement floor."
(PRWEB) May 07, 2013
"Hampton Dogs" is Dog Trainer Lisa Hartman's' full color coffee table book featuring the lucky dogs that work and play in "The Hamptons." From working farm dogs to the dogs of billionaires lounging poolside, all dogs were beautifully photographed by Ms. Hartman in one of their favorite Hamptons locations enjoying the good life.
But many of the dogs came from more humble beginnings. "One of the dogs in the book was found as a young puppy frozen to the cement floor in a kill shelter. He now lives by the water in Southampton and enjoys kayaking and snuggling in bed with mom and dad. A Cavalier King Charles pup that was bred in a filthy shack along with seven other breeds of dogs now enjoys summer on a yacht in Sag Harbor. The tales are endless, but the purpose of the book was to show that any dog could be beautiful and happy if given the chance. It was also to bring attention to the life saving work of the animal rescues."
A few of the animal shelters have written essays for Hampton Dogs explaining their missions. Many locals, summer visitors and business owners signed up their dogs for photo shoots with Lisa to help the cause and have fun too. The book has already raised money for the animal rescues before reaching stores, with book signings and other media events planned this summer. A book Lisa Hartman says is a tangible object that people would keep, and therefore the information would always be available. Hampton Dogs has become wildly popular with tourists and locals alike.
Ms. Hartman has other books and projects in the works, including a Celebrity Dog Book (featuring some of her famous clients) and "Gotham Dogs", and was recently filmed for European Television showing the luxury lifestyle of dogs in the Hamptons. For more information go to http://www.LisaTheDogTrainer.com