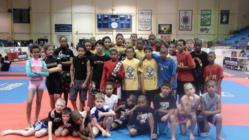 Morristown, NJ (PRWEB) May 03, 2013
On April 20th and 21st the NAGA World Championships were held in Morristown, NJ. As one of the nations more prestigious tournaments, NAGA hosted hundreds of athletes, including over a dozen kids and teens from Lloyd Irvin's Martial Arts Academy.
Overall, 12 first place prizes were collected by Team Lloyd Irvin Kids/Teens and numerous silver and broze medals.
Some of the beginners, like Corey Coates, Rico & Rocco Murray, Malia & Shalice Watkins, Mahki Watkins, Miles Davis, Lloyd Irvin III, Sidney James, Stone James, LeAndre Toney, Champ Easton, and Justin Patterson all won or medaled in their divisions.
Even Master Lloyd Irvin's son, Lloyd Irvin III, got in the mix winning first place and bringing home a sword for his efforts! Champ Easton, the son of UFC star Mike Easton, also snagged a gold medal in his division.
Team Lloyd Irvin has offered an After School program and Summer Camp for kids and teens for over ten years, teaching martial arts, etiquette, discipline, bully prevention and more. It's more than winning medals and trophies at Lloyd Irvin's Martial Arts Academy, the focus is primarily teaching kids how to be sociable, respectful, and honest. Morals are number 1, not championships. Registration is open now for Summer Camp, call 301-449-KICK for more information.