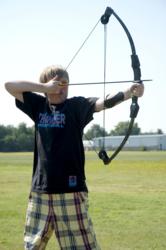 Innovative learning for all youth is created equal at the 2013 Kid's College.
Oklahoma City, Oklahoma (PRWEB) May 01, 2013
"Constitution Avengers" promises to "Make learning about the Constitution and our rights as American Citizens fun." Students will create a collage of the Preamble to the Constitution, make the Liberty Bell out of clay, and design a "favorite freedom" poster along with other fun, informational activities at Kids College this year.
How about "Patriot Pride?" Students can "step back in time as you experience life as our colonial forefathers knew it," with learning about colonial games and dances, colonial archaeology, or colonial writing with a hornbook and quill pens.
In addition, Kids College will have a host of other classes, including Archery, Entrepreneurship, Rocketry, Math Skills, Robotics, Science, Art and many other activities.
Enrollment for Kids College by phone or in person is underway at The Community Learning Center in the Tom Steed building on the Rose State College Campus in Midwest City, just off Interstate 40 and Hudiburg drive. Enrollment may be made in person from Monday through Thursday from 8 am to 7:30 pm, or on Friday from 8 am to 5 pm. Cash, check, or credit card enrollments accepted. To enroll by phone, or for more information, call 405.733.7392, or visit on the web at Kids College.