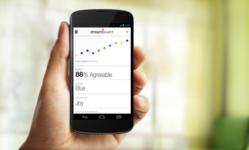 We want the Dreamboard digital dream journal to be accessible to everyone, on every computer and device.
San Francisco, CA (PRWEB) May 02, 2013
Dreamboard, the digital destination for recording, understanding, and learning from dreams, launches today the Dreamboard Mobile native app for Android phones. The Dreamboard dream journal app is now available as a native app for iOS and Android smartphones and as a browser-based web application on any computer at http://www.dreamboard.com.
Since its launch in November 2012, Dreamboard has added 50,000 users with more 100,000 dreams recorded, making Dreamboard one of the largest dream datasets ever compiled.
"We want the Dreamboard digital dream journal to be accessible to everyone, on every computer and device. That's why we have made Dreamboard Mobile available for Android, the largest mobile platform. The Android app release was already planned, but we had to accelerate its development. Too many users wanted it and let us know loud and clear!" said Umberto Prunotto, Dreamboard Inc.'s Founder and CEO. "We are completely committed to building a product and user experience of superior quality and, while we roll out Dreamboard to more platforms, we constantly improve its algorithms and expand on its scientific foundation with the help of Prof. Bruno Bara and his team."
Dreamboard is the first digital dream journal that focuses on a "design-first" approach that enables a reliable and fast structured dream data logging experience.
Users can use the Dreamboard dream journal from Dreamboard Mobile for Android and iOS or from any desktop and mobile web browser. Across all platforms, Dreamboard enables users to:

Record dreams. Users can easily log their dreams on a daily basis, both via the web and their smartphones. By selecting a simple set of options like moods, feelings, colors, places, people and by jotting down a dream description, they can record a dream in a few seconds.
Keep a dream journal. Users can create, annotate and browse their personal dream journals. Past dreams are saved for users to read, rediscover, annotate and update at any time. The dream journal is completely private and safe.
Observe dream patterns. At a glance, users can observe trends in their dreaming activity. Dreamboard finds similarities between past dreams, identifies symbols and recurring tags, aggregates dream data and performs statistical analysis in a private dashboard, giving users feedback that helps them develop a better understanding of their dreams over time and in relation to life events. 
Dreamboard operates with complete user data privacy as the default setting. Users can use their Facebook and Twitter account to login to Dreamboard, but their dream data and dream journal is accessible only to them.
The Dreamboard dream self-tracking software enables users to capture and organize dream data for their personal analytical needs, while at the same time assembling the largest standardized and structured dream data set, yielding a new category of user-contributed health information.
Dreamboard Mobile for Android is available on Google Play at: http://play.google.com/store/apps/details?id=com.dreamboard.android  
KEY ASPECTS OF THE DREAMBOARD ANDROID APPLICATION
Very fast and lightweight Android app available from Google Play.
Seamless access to the dream journal from any device, browser, tablet, computer and full synchronization with the mobile app
Ease of adding a new dream with a few simple clicks of pre-defined tags and data, such as emotions, places, colors or people, and the ability to add your own tags and descriptions
Pre-defined symbols for describing dreams
Navigation capability between related symbols
Ability to highlight recurring dreams, lucid dreams or a dream series
An alarm clock with reminder/invitation to record a dream
User-programmable daily reminder/notification to record a dream
Ability to browse through the dream journal and edit dreams
Keyword search of the dream journal
A dream dashboard with stats and information of the user's dream history
Improved dream analysis, "dream tree" graphical representation and stats dashboard
Facebook and Twitter login and access yet no privacy compromise
Password protected access for maximum privacy
About Dreamboard, Inc.
Dreamboard is a fun, secure and beautiful digital dream journal. Accessible from smartphones, tablets and computers, Dreamboard is designed with the guidance of dream psychology experts and built by a small international team in Italy, Switzerland and the United States (San Francisco, California). Dreamboard Inc. strives to create a product and a company that people love. For more information, visit http://www.dreamboard.com.