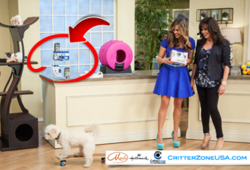 "We know the product is very effective, but we've been amazed with the recent national coverage. It just goes to show that small companies can make a big impact, if they have a product that really improves people's quality of life."
Minneapolis, MN (PRWEB) May 01, 2013
CritterZone Air Naturalizer is gaining attention from media outlets and bloggers nationwide for its pet odor-removing power in home environments.
CritterZone recently has been featured in a variety of high-profile news spots, including "ABC World News Now" with Dick DeBartolo and CBS New York's "Mobile Couch."
VetStreet.com included the CritterZone in its recent list of 5 cool products for pets and their people, and Marie Osmond featured it in a pet segment on her Hallmark Channel show, "Marie." NY1.com reporter Adam Balkin talked about CritterZone's power in his recent article, "New technologies make things easier for pet owners."
CritterZone is a compact and powerful device that removes pet odors from the air. It is a great solution for a wide range of indoor air-quality issues, including cat and dog odors as well as allergies and unpleasant smells from bird cages, ferrets, rabbits, hamsters, Guinea pigs, litter boxes and more.
Upon its debut into the pet industry, the CritterZone Air Naturalizer was awarded first place for Best New Miscellaneous Pet Product at the SuperZoo International Show in Las Vegas in September 2012.
--Bloggers Blown Away By CritterZone's Unexpected Power
Healthy living blogger Tatiana Ridley learned about CritterZone at Pet News Now's recent Health & Wellness Pet Product Showcase in Manhattan. She said the CritterZone's abilities to tackle pet odors and alleviate pet allergies make it "… MY FAVORITE new pet product on the market."
Popular pet blogger Hauspanther tried it out, too, and said, "I'm convinced; this is the greatest invention EVER!"
Blogger ConsciousCat reiterated those thoughts, stating, "I absolutely love this unit. I've shied away from larger air cleaners because they require frequent disassembly and cleaning, as well as purchasing replacement filters… This small, efficient unit gets the job done!"
Bill Converse, president of CritterZone by AirRestore Inc., said he is excited to see the momentum growing as more people discover the CritterZone Air Naturalizer. "We know the product is very effective, but we've been amazed with the recent national coverage. It just goes to show that small companies can make a big impact, if they have a product that really improves people's quality of life."
Rather than masking odors, the CritterZone Air Naturalizer produces a charged flow to fill the room. This flow cleans the air continuously, virtually eliminating odors, bacteria, dust and allergens. In doing so, it restores the air indoors the way Mother Nature does outdoors.
One affordable, compact CritterZone Air Naturalizer typically can restore the air in an area up to 800 square feet. It also saves pet parents on their energy costs, requiring only about 1/20th the electricity used to power a 60-watt light bulb.
###
For more information, contact CritterZone by AirRestore Inc. Vice President Eric Converse at 612-235-4911. Email: sales(at)critterzoneusa(dot)com. Website: http://www.critterzoneusa.com.