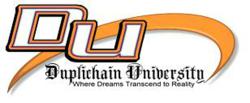 Lake Charles, Louisiana (PRWEB) May 07, 2013
On June 2, 2013, Duplichain University will celebrate its first Commencement Exercises at 2:00 pm in the Lake Charles Civic Center in Lake Charles, Louisiana. As an expression of appreciation and gratitude to the many who have supported this endeavor, an Honors Brunch will be held prior to Commencement recognizing those trailblazers who have not only supported the evolution of Duplichain University, but who have dedicated their lives to service and helping others within the community. The Honorees are: Dr. Press Robinson, Dr. James Frank, Dr. Stephen Ayers, Mrs. Faye Brown-Blackwell, Ms. Barbara Pickney, Mayor Randy Roach, and State Representative A.B. Franklin.
Duplichain University is honoring those members of the community who have modeled exemplary service to the citizens of Louisiana.
The Honors Brunch will take place at 10:00 a.m. in the Contraband Room of Lake Charles Civic Center. Individual tickets are $35 each. Tables of eight are discounted ($30 per person) at $240. All checks are to be made payable to Duplichain University Foundation. Duplichain University requests that all ticket monies for reserving a seat be received by Monday, May 20, and sent to Duplichain University, 116 State Street, Lake Charles, LA 70605. Contributions are tax deductible! Funds will be dedicated to Duplichain University Non-Profit Scholarships. For any additional information, you may call 337-474-1720.
Fourteen (14) of DUs 57 students will make history on June 2, 2013 when they become members of the first graduating class. They will also be recognized with certificates for their involvement in local, national, and global service projects and their demonstrated respect for diversity.
Duplichain University is a global online learning institution offering undergraduate and graduate degrees in Education and Criminal Justice. Duplichain University offers an innovative learning approach in a supportive, nurturing and flexible academic environment. Students enrolled in Duplichain University develop, refine, strengthen, and enhance their skills in a discipline of their choosing, while maturing academically, intellectually, and personally.