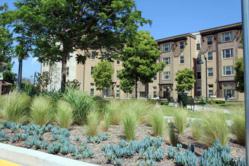 (PRWEB) May 01, 2013
The University of La Verne has been recognized as one of the country's most responsible green colleges by The Princeton Review's Guide to 322 Green Colleges for 2013. On April 24th, La Verne was honored at a ceremony hosted by The Princeton Review in Washington D.C. for the accomplishment.
"When surveyed in 2012, close to 70 percent of college students indicated that they wanted to know about a college's commitment to the environment and sustainability," Professor of Biology Christine Broussard said. "Being recognized by The Princeton Review's Guide to Green Colleges means that we have external validation of what we have done for years. Not only do we say we are committed to sustainability, but an organization unaffiliated with the university evaluated our actions and recognized us too."
More than 800 institutions across the United States and Canada participated in The Princeton Review survey, which asked administrators about their institution's sustainability-related policies, programs and practices. The 322 institutions that received a score of 83 or higher were named as Green Colleges.
"It is a proud moment for La Verne to be included in the distinguished group of Green Colleges and to be honored in Washington D.C.," Broussard said.
Sustainability is something close to the hearts of many on campus, including members of the Sustainable Campus Consortium, which was founded in 2001. The nearly 30 members have worked together to help La Verne maintain its commitment to sustainability and the environment.
"The consortium is committed to supporting the University of La Verne's mission by promoting proactive, environmentally responsible practices throughout all campus activities," Broussard said.
Students, staff and faculty who make up the consortium at La Verne have developed initiatives and raised awareness of environmental issues, which have translated to two LEED-certified buildings, (the Sara and Michael Abraham Campus Center and Vista La Verne residence hall), drought-tolerant landscaping throughout the main campus and a successful recycling program. Through recycling alone, La Verne has achieved a 65 percent waste-diversion rate.
Director of Physical Plant Operations and Services Robert Beebe, leads a team that is constantly improving areas throughout the main campus to reduce the university's carbon footprint and ensure that sustainability remains a top priority.
"In the last year we've taken out about 48,000 square feet of turf, planted drought tolerant plants and installed drip irrigation systems," Beebe said. "We're saving about 50,000 gallons a year of water just on that."
On the electrical front, Beebe's team will be replacing numerous halide bulbs with LED bulbs that will require less maintenance and will reduce the carbon footprint. Several campus locations, including parking lots, will be equipped with new LED bulbs in phases beginning late spring or summer of 2013.
"The university's mission statement is about sustainability," Beebe said. "This is putting the meat behind it. We're not only going to talk the talk, we're going to walk the walk."
The Princeton Review last recognized the University of La Verne for its green efforts in 2011.