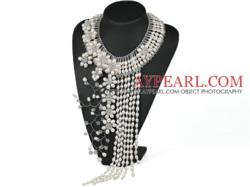 Aypearl.com Released New Pearl Jewelry Collection on April 28th.
(PRWEB) May 01, 2013
On April 28th, Aypearl, the leading online jewelry store, released some new fashion pearl jewelry. All pearl jewelry on Aypearl is designed by their own designers.
In 2013, Aypearl expanded their product line by releasing more items on their website. Most of the new items are freshwater pearl jewelry. You can find some high-quality pearl jewelry on their website, but the price is lower than others. " Pearl jewelry will be more popular in May because of Mother's Day. Pearl jewelry is the best gift for Mother." said Zhang Yong, CEO of Aypearl.
The pearl jewelry on Aypearl includes various styles of jewelry, such as pearl necklace, pearl bracelet, pearl earrings, pearl jewelry sets and so on. "We also have cheap pearl jewelry, such as pearl beaded jewelry and pearl party jewelry." The CEO said, "We have many experienced designers. They designed thousands of jewelry in past 20 years. That's why our items are highly welcomed."
Many customers are very glad to find their favorite pearl jewelry on Aypearl. One customer named Branda said, "Thank you very much for your jewelry items. I know I've told you before how much I like your jewelry, especially the pearl jewelry - but I'll say it again. You have made a huge difference to my business. I'm so glad I've found you. Best of luck to you all."
Finally, the CEO said, "All items on Aypearl are designed based on the latest fashion trends. We also provide superb customer service. Customers will get a quick response from our pre-sale service and after-sale service. We support free shipping to 21 countries for an order which is over $150. In one world, we are dedicated to offer satisfied service to our customers."
About Aypearl
As the famous online jewelry store, Aypearl values each customer's satisfaction and requirement. High quality, reasonable price, good customer service, fast shipping are good reasons for choosing Aypearl.
More pearl jewelry information can be found at: http://www.aypearl.com/wholesale-pearl-jewelry/