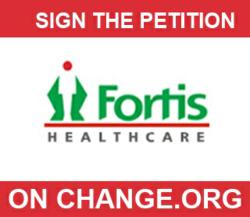 Whiteboards in hospital rooms is a practice widely used by hospitals in the US. I am hoping to bring about change for better thru this simple system of communication amongst patients, nurses & doctors. - Varun Tandon
Long Beach, CA (PRWEB) May 06, 2013
According to Varun Tandon, patient allergy and diet information at hospitals often hides away in files and wrist bands. Varun Tandon recently lived at Fortis Hospital for ten days. As per his account, the experience with hospitals in the US and in India helped him see the differences clearly.
The goal of the Petition to Fortis Healthcare:
1. Install Whiteboards in all hospital rooms. This would reduce the communication gaps in patient drugs allergy and diet restriction information.
2. Integrate all Fortis Hospitals' Pharmacy Computer systems with patient allergy information to alert the pharmacist of any conflicts.
Study and Recommendations on whiteboards usage:
-- Here is a study by UCSF - University of California, San Francisco:
http://hospitalmedicine.ucsf.edu/downloads/patient_whiteboards_as_a_communication_tool_in_the_hospital_setting_jhm.pdf
Further requirements for successful implementation
-- Physical implementation of whiteboards across your network of hospitals is required.
-- Changes in training the nurses and doctors on how to use the board is required.
-- Changes in ongoing budgeting for the new procedure and auditing the usage.
Three places where allergy checks need to be in place:
1.) At the time when the Doctor prescribes the medicine.
2.) Time when Pharmacy dispenses that medicine.
3.) When nurses administer that medicine to patients.
The goals of this petition meets the needs for three places where the checks are needed.
How far does this affect others?
As per Fortishealthcare.com published website, Fortis Healthcare is a network of hospitals across 11 countries including Canada, India, Sri Lanka, Singapore and others. The group has 70 hospitals, 180 laboratories, 140 Pharmacies, 61 medical centers (with 550 associated clinics) and 137 dental practices. Fortis Healthcare's revenue for last financial quarter alone was: US $285 million dollars. As per Varun Tandon's observation, Fortis has been expanding and buying out hospital chains.
Sources for statistics listed above:
http://www.fortishealthcare.com/at_glance.html
http://www.fortishealthcare.com/pdf/whats_new/Press_Release_Q3FY13Final.pdf
Please sign this petition to Fortis and help Fortis Healthcare become an example of excellence to the rest of the hospitals in India.
Contact:
Varun Tandon