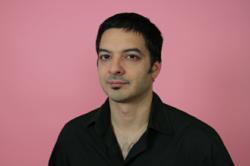 A guy is not going to have confidence with women unless he is confident in exactly who he is without a woman.
San Mateo, CA (PRWEB) May 07, 2013
Gaining confidence with women boils down to recognizing what makes an individual unique and realizing that everyone has value, says Dating Expert Carlos Xuma in his new report.
"Many men lack confidence in dating because they are mistakenly caught up in the idea that all women want the same kind of men: someone who is good looking, has a lot of money, and a great job," Xuma says. "But the reality is that this isn't true. If it was, the majority of men would be single."
Knowing what women want is half the battle in learning how to attract them, and then the confidence just falls into line naturally, Xuma explains in his report.
"The number one way to be confident in dating is to polish the skills that allow a guy to attract women," says Xuma. "In other words, guys get confidence by dating women. It takes action and success in the dating world to achieve effortless confidence."
No guy is going to be sitting at home alone on his couch after six months of going without a date and have confidence in his ability to attract women, Xuma stresses.
"Confidence with women comes from getting out there and being successful with women," he says. "There are many, many ways to find that success, but being confident in the dating arena really boils down to confidence with who a guy is when he is all alone."
In other words, a guy is not going to have confidence with women unless he is confident in exactly who he is without a woman, Xuma says.
"It sounds counterintuitive, but the very first thing a guy should work on in building confidence with women is getting a date," Xuma says. "However, sometimes there are a few steps involved before he can snag that date. That is where his own confidence in his worth and what he brings to a relationship comes into play."
The first step Xuma recommends in his report is for a man to realize that even if he doesn't fit the stereotypical mold of what a woman typically wants, if he honestly looks at his strengths and takes pride in emphasizing them, his confidence will soar.
"Being exactly like every other guy is boring," Xuma says. "Guys need to figure out what makes them unique, gain confidence in themselves that way, go attract women, and then build their confidence in the dating arena."
Carlos Xuma is the author of numerous articles and books, including The Bad Boy
Formula, Secrets of the Alpha Male, and the Girlfriend Training Program. Xuma has
appeared on ABC and CBS television and Playboy radio. He has been a dating expert and attraction adviser for more than 10 years, teaching hundreds of men important dating skills, such as how to flirt with girls, how to seduce a woman, and how to gain confidence with women.
For more information, visit Carlos Xuma's website at http://www.carlosxuma.com.