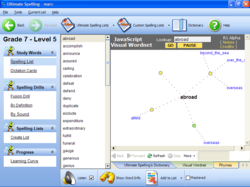 ...the customizable words list is an essential component, because it allows children to have a bit more flexibility when it comes to the words they learn.
New York City, NY (PRWEB) May 07, 2013
Ultimate Spelling has not only been getting rave spelling software reviews from teachers working in established schools, but also from parents who take it upon themselves to teach their children at home.
Essentially, what makes this significant is that teachers in school undergo a special educator's training in order to be allowed by the state to pass on their knowledge to the children. With homeschool teachers, however, parents are often left without concrete resources, and learning sometimes takes on a more casual and alternative approach. Considering that homeschooling parents do not necessarily follow a strict curriculum, they need to have the tools to design a program that is both going to be workable for their home environment and also effective as learning system for their children.
It is with this in mind that the recommendation of the software reviewer at Writing Canvass takes on a certain level of significance. The reviewer is a mother who uses Ultimate Spelling for homeschool activities, and that says a lot about the trust she puts in this particular product.
According to the review, the customizable words list is an essential component, because it allows children to have a bit more flexibility when it comes to the words they learn. By having the ability to expand their list through the addition of new words they have encountered, they are able to focus on the things that they want to thoroughly learn at each step.
When they're done with each particular set of words, they can immediately replace it with another, in the process expanding their vocabulary and their spelling skills at the same time. Apart from this flexibility, the reviewer likes the fact that the program also features a unique word association element, which can be linked to the Internet. Through this, the students can then see the image of the word, form the association or recognize the context, and so remember the proper spelling, as well as form a better understanding of the word.
This personalized and experience-based review from a homeschooling parent is probably one of the highest compliments that Ultimate Spelling has ever received from any of the review sites that has featured the product in the past. To have hands-on mothers and educators say that this is the product they would entrust with the education of their kids speaks volumes about the quality of the product.
For more information about how spelling software can improve spelling performance for you and your family, please visit the official website at http://www.ultimatespelling.com.
About Ultimate Spelling™
Ultimate Spelling provides a modern and easy to use spelling software that has been designed with one goal in mind – making children want to learn.
It is a fast and easy way to master even the most complicated spelling, without the need to write long lists or complete boring tests.
In fact, Ultimate Spelling provides more than just spelling help. It is a complete educational resource that boosts all level of a child's literacy.
Containing a personal computer tutor, Ultimate Spelling is the most realistic step-by-step guide to flawless spelling ability.