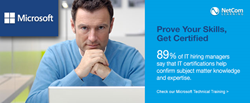 Earning the MCSA Windows 8 certification is a necessary skill for most information technology professionals. The MCSA is a foundational certification in information technology
New York, NY (PRWEB) May 05, 2013
Classes are filling up at NetCom Learning as corporations, military organizations and individuals sign up to become Microsoft Certified Solutions Associate (MCSA) certified in Windows 8. NetCom Learning is the top training company to learn Windows 8 and prepare for the MCSA certification exam in Windows 8. As a Microsoft Gold Certified Partner for Learning Solutions (CPLS), NetCom Learning offers organizations and individuals training options and solutions to get trained in Windows 8 and be up and running with the new software quickly, efficiently with a company you can trust.
"Earning the MCSA Windows 8 certification is a necessary skill for most information technology professionals. The MCSA is a foundational certification in information technology," said Russell Sarder, CEO of NetCom Learning. "NetCom Learning is the training company that offers organizations and individuals options in terms of how and when they want to take their training, so that training can happen quickly and efficiently and fully prepare students for certification exams," said Sarder.
Microsoft's Windows 8 operating system was released in October 2012. The new operating system has quite a lot of changes and enhancements over the previous edition. There is a fundamental change in the way the operating system works from other Windows editions with much more touchscreen adaptability and new interfaces for mobile devices, the use of USB 3.0 Cloud computing technology, and integral antivirus software. NetCom Learning is currently offering a range of training options in MCSA: Windows 8. Training solutions include traditional classroom training and Boot Camps in addition to customized training solutions and live online training available anytime and anywhere.
Upcoming Windows 8 training schedules:

MCSA: Windows 8 on May 6
MCSA: Windows 8 Boot Camp on May 13
MCSA: Windows 8 on June 24
MCSA: Windows 8 Boot Camp on August 5
More schedules are available at: http://www.netcomlearning.com/packages/20688/MCSA-Windows-8-training.html
To register for upcoming Windows 8 training events contact us at (888) 563-8266 or at info(at)netcomlearning(dot)com.
Why NetCom Learning for Microsoft Technical Training?
NetCom Learning is simply the most trusted name in both business and IT training. NetCom Learning is a Microsoft Gold Certified Partner for Learning Solutions (CPLS). CPLS is the premier training channel and delivery mechanism for Microsoft training content. NetCom Learning was honored by Microsoft as the 2007 Worldwide Partner of the Year for Learning Solutions. Selected as the Number One CPLS from over 1400 worldwide CPLSs, Microsoft recognized our commitment and ability to deliver high-quality learning services using a consultative engagement model. Software Assurance Vouchers can only be redeemed with CPLS training partners.
NetCom Learning's Microsoft classes are taught using top notch instructors who are also Microsoft Certified Trainers and fully authorized by Microsoft to teach the training material. The course-ware used in the classes is Microsoft Authorized and include free evaluation software and online training. Microsoft lab requirements are strictly adhered to, and successful candidates receive their Certificate of Completion from Microsoft directly for most courses.
Benefits of Certification
By getting certified with the MCSA: Windows 8 certification, you will have third party validation of your skills in the newest operating system from Microsoft. The MCSA certification will indicate to employers that you have a level of competency and skill that proves you know what you are doing and in the field of information technology and you have invested your time, effort and money to achieve certification. For organizations having employees who hold Microsoft IT certifications such as the MCSA means that you have the right skills sets within your company to improve efficiency through the use of the newest technology, technology that will grow the business.
To learn more about Microsoft training, contact us at info(at)netcomlearning(dot)com or visit http://www.netcomlearning.com/vendors/2/Microsoft-Technical-training.html?advid=412.
About NetCom Learning
NetCom Learning is an innovative leader in IT, business and executive training to companies, individuals, and government agencies. Since its inception in 1998, NetCom Learning has trained over 80 percent of the Fortune 100, serviced over 45,500 business customers, and advanced the skills of more than 71,000 professionals through hands-on, expert-led training, with the organization maintaining an average instructor evaluation score of 8.6 out of 9. NetCom Learning was recognized by Microsoft Corporation as its Worldwide Training Partner of the Year and named thrice to Inc. Magazine's list of fastest growing private companies in America. The organization was also recently named to the 2012 Top 20 IT Training Company by TrainingIndustry.com and was named "Company of the Year" by the American Business Awards.
The purpose of NetCom Learning is to promote the values of lifelong learning.