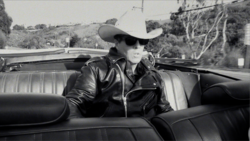 (PRWEB) May 11, 2013
Country alternative musician Randy Grant releases his latest album Desiderata. The unique sound of this country and indie music crossover artist brings a sound that someone never knew it was missing.
His signature sound is a compellation of his broad and wide love for music and melodies. Randy draws inspiration from some of the great Americana artists like—Elvis Presley, Johnny Cash and Jim Morrison. And from rock and indie music artists like King Crimson and LA Folk Rock Band LOVE.
Randy Grant began writing poems and lyrics in high school and was said to live life with the rearview mirrors ripped off. His motto is "Keep going, no matter what. Can't sing? Keep going. Can't play? Keep going. Bad show? Keep going. No bread? Same."
Randy's perseverance through life's ups and downs has made him a musical force to be reckoned with. The world of country music has never seen an artist with this level of innovation. His sound is unique and memorable but still distinctly country.
"I'm quite excited about my latest musical endeavor Bad Day At Black Rock. It's an acoustic duo with a very talented lady named Jazz holding down the drums and singing. Think of it as Americana White Stripes if you want. I would describe the sound as garage folk and blues with a possible touch of the Kinks."
To experience the musical stylings of country music alternative singer and songwriter Randy Grant and to find his latest tour dates visit randygrantmusic.com