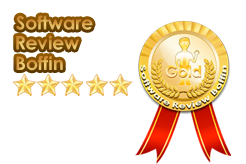 It was also clarified that the overall difference in score between the top three software was marginal...
New York City, NY (PRWEB) May 07, 2013
Software review website Boffin revealed today that it has recently published a new round of reviews on the best speed reading software for 2013. The Boffin review team assessed a number of different reading speed enhancing software, and concluded that 7 Speed Reading™ is the most efficient. This product was therefore put in first place, and awarded Boffin's five-star rating.
At the third place position, the Boffin reviewers chose Ace Reader, a Mac-compatible speed reading boosting software with a comprehensive list of features and capacities. As the Boffin team of reviewers suggests, Ace Reader's Mac compatibility give it an advantage over the other software products tested. However, due to some weak aspects which prevented the reviewers from ranking it better, this Mac advantage was not enough to move it higher overall. More specifically, the reviewers mention the fact that in order to complete the speed reading course, users need to also purchase a second set of the software, as the first package is only one part of it. The additional cost is what led the reviewers to award the software the third place, behind 7 Speed Reading™ and EyeQ.
As noted on the Boffin website, the second place ranking goes to EyeQ software. According to the speed reading software reviews, only its lack of video tutorials led to the software missing out on the No. 1 placement. The review states clearly that EyeQ speed reading software covers all necessary aspects of speed reading theory, but somehow fails to offer learning in the most optimized way possible, through video tutorials. Overall, the software was deemed very capable and efficient by the Boffin review team and was awarded the No. 2 place with a four-star rating.
Lastly, the top software for 2013 according to the Boffin reviewers is 7 Speed Reading™, as it offers the most complete range of features, tools, and technologies, ensuring optimized and effortless speed reading progress. As the Boffin reviewers explained, the most valuable aspect of 7 Speed Reading™ is that it manages to boost reading speed effortlessly and quickly, in contrast to all other reviewed software.
The Boffin website made clear that the current rankings are subject to change and that as new software versions or upgrades are released, the Boffin website will be reassessing their rankings in order to offer the most accurate assessment to Boffin website visitors. It was also clarified that the overall difference in score between the top three software was marginal, and the rankings were due to the features noted above.
Software Review Boffin reviews the latest technological products in demand on the market right now. They provide expert, honest and straightforward reviews so customers can objectively measure if a product, especially software is well worth it before making their purchase.
To learn more about Software Review Boffin visit http://www.softwarereviewboffin.com