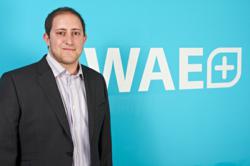 Ensuring that our customers find what they are looking for quickly and intuitively is vital to the success of our site. With SearchBroker we have taken control of the search engine so we can better understand our customers and serve them more effectively.
Birmingham (PRWEB UK) 2 May 2013
Online retailer WAE+ is maximising conversion rates through Colbenson's SearchBroker.
SearchBroker Site Search is an onsite search, navigation and autocomplete system for online retailers that transforms the experience of finding products and information into a smooth, empathetic and fun process.
WAE+ realised that customers react to a positive online search experience in the same way as they do to good customer service in a bricks and mortar shop. Online, the customer is still connecting with the retailer. If the search is not satisfactory, the customer will abandon the site.
WAE+ is one of the UK's fastest growing ecommerce websites, selling a range of over 125,000 product lines from office supplies, toys and food and drink to the latest consumer technology gadgets. The retailer has created a website classified by department, but as the product range is vast, helping customers to find a product has not always been easy.
Ben Slater, Operations Director at WAE+ says: "With a huge range, ensuring that our customers find what they are looking for quickly and intuitively is vital to the success of the site, yet has also been a considerable challenge. With SearchBroker, we have taken control of the search engine so we can better understand our customers and serve them more effectively – this has seen our onsite findability quadruple in the first week of going live."
As WAE+ offers a variety of product lines, its customer profile is also complex.
Angel Maldonaldo, Director of Innovation at Colbenson says: "Unlike many specialist retailers, WAE+ does not have a single product or customer type, we're unable to model the search function around one particular customer type. For WAE+, we've implemented a search engine that learns customer behaviour, adapts to it and then predicts future behaviour so it can anticipate demand."
The search process on the WAE+ site is multi-dimensional. This means that, not only are there different customer types, there is also a huge variety of product types – how B2B customers buy office supplies is totally different to Christmas shoppers looking for toys, for example.
To develop a search tool for WAE+, Colbenson took a three-stage approach starting with customer analytics, monitoring terms used and search behaviour. Once they had created the search tool, it was followed by an on-going process of fine-tuning.
The online search system is not just about the findability of WAE+ products, the company is also keen to deliver great customer service too: "We don't just want an efficient but essentially cold service for our customers, we want them to feel like they're getting great service," said Slater, "And this is why we chose SearchBroker, because it's a system built from the customer perspective."
As Maldonaldo explains: "We realised that when customers ask for help, they engage a lot more with a store and have much higher expectations. This is a risk, but also an opportunity because it's not just about getting a sale, it starts to be about building a relationship. Site Search gives us that same opportunity – and risk if we get it wrong. But if retailers get it right, they can really start to engage with online customers."
WAE+ currently receives more than 3,000 searches per day, and the rate is increasing all the time. The most searched for term is Samsung, mainly from customers looking for the Samsung Galaxy, demonstrating the need for a search which is aligned to the way customers think about brands and products.

About WAE+
WAE+, one of the fastest growing online retailers, offers 125,000 products including office supplies, consumer electronics, parts and components and wholesale food and drink. The retailer's sourcing strategy and ecommerce platform enable it to sell a large range of discounted products.
Headquartered in Birmingham, WAE+ originally sold office supplies to thousands of businesses across the UK and has since branched out to selling related products to both businesses and consumers.
Since the company's, inception, the team has focused on three key areas: range, value and customer service.
WAE+ offers a lowest price guarantee on its core range and has a growing customer service centre committed to providing an efficient and reliable dispatch service, backed up with efficient and polite customer service.